Martha Connolly Inducted into American Institute for Medical and Biological Engineering College of Fellows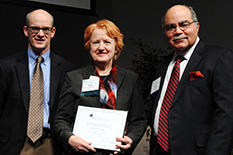 Martha Connolly, director of the Maryland Industrial Partnerships (MIPS) program in the Maryland Technology Enterprise Institute at the University of Maryland, has been inducted into the College of Fellows by the American Institute for Medical and Biological Engineering (AIMBE), institute officials announce today.
AIMBE is the leading advocacy group for medical and biological engineering, with practitioners in academia, industry and government. The College of Fellows is comprised of the top two percent of medical and biological engineers in the country, including school chairs, research directors, innovators, and successful entrepreneurs.
Connolly was named fellow for "outstanding contributions to the field of technology commercialization of biomedical technologies that resulted in demonstrated economic benefits."
"Martha Connolly is one of the most respected and admired experts in the area of technology development," said Lisbeth Pettengill, vice president of the Greater Baltimore Committee. "Her leadership has made MIPS one of the most successful programs in the United States, with measureable outcomes that have resulted in the formation of some of Maryland's most outstanding companies. She gives tirelessly of her expertise and her energy, not only to the professional communities with which she interacts, but also to her countless friends and admirers."
As head of the MIPS program for nearly a decade, where nearly 40 percent of the funding for technology product research is awarded to projects led by bioscience companies, Connolly has supported the development of products for companies such as MedImmune, CSA Medical, WellDoc, PharmAthene, GenVec, Innovative Biosensors, 20/20 Gene Systems, Alba Therapeutics, A&G Pharmaceuticals and Gliknik.
"Dr. Connolly has been a tireless advocate for CSA Medical and the life science and technology industries in Maryland," said CSA Medical Inc.'s Chief Financial Officer Steven Schaefer. "The combination of her keen insights into business, her knowledge of the political arena and her academic connections make for a powerful combination that helped us find targeted programs to move our Company forward. We are very grateful for her support."
Blockbuster and emerging products developed by Maryland companies have benefitted from MIPS, including Martek Biosciences' nutritional oils, Hughes Communications' HughesNet™, MedImmune's Synagis®, Black & Decker's Bullet® Speed Tip Masonry Drill Bit, WellDoc's mobile diabetes management platform, and CSA Medical's diseased-tissue ablation device. Products with MIPS projects have generated more than $25.2 billion in revenue and added thousands of jobs to the region.
"Martha has inspired students, faculty, and entrepreneurs to push technologies into the marketplace," said William Bentley, professor and chair of the Fischell Department of Bioengineering in the Clark School of Engineering. "She has developed innovative programs that stimulate entrepreneurship and economic development broadly, and her fellowship in AIMBE recognizes just one aspect of her work in the translation of technological advances towards the medical and biotechnology industries."
Connolly has connected and mentored many bioscience companies and faculty in the University System of Maryland. Among those is Charlene Quinn, associate professor in the University of Maryland School of Medicine, who worked with Baltimore-based WellDoc through MIPS to evaluate the company's flagship product, DiabetesManager, which helps doctors and patients with type 2 diabetes work together by providing for the capture, storage and real-time transmission of blood glucose data and other diabetes self-management information in a highly secure environment. Quinn's MIPS study showed that adults with type 2 diabetes using WellDoc's software achieved a 2.03-point reduction in A1c, an indicator used to identify the average blood glucose level of a diabetic over a 12-week time period.
"Dr. Martha Connolly has been a valuable mentor and colleague assisting me in establishing a strong research career with partnerships in the private sector and national research communities," said Quinn. "Her work has made a significant contribution to scientific communities, private enterprise and economic development. Her enthusiasm for building collaborations between science and the private sector is worthy of the distinction bestowed by the AIMBE."
Overall, Connolly has served as a leader in the Maryland bioscience industry for more than 25 years. She was the first biotechnology advocate hired at the state level when she joined the Maryland Department of Business and Economic Development (DBED) in 1997 to foster the state's fledgling bioscience industry. In that capacity, she helped plant the seeds for what is now a significant industry in the state.
During her time at DBED, Connolly helped grow the Maryland bioscience community from 300 to 450 businesses. She also put Maryland on the map in the international bio community as the place where the human genome was sequenced.
"Martha combines vast experience and academic know how with pragmatism and an understanding of the real world, enabling her to connect with individuals of all backgrounds and perspectives," said David Ianucci, assistant deputy CAO for economic development and public infrastructure at Prince George's County. "She is widely respected, but most importantly, people like Martha."
Connolly also directed business development activities at EntreMed Inc., a publicly traded biopharmaceutical company, and co-founded the startup technology development/commercialization firm Clairus Technologies Inc.
Connolly was the first woman to graduate from The Johns Hopkins University's biomedical engineering doctoral program. She was also among the first class of co-eds at the Stevens Institute of Technology.
As a former faculty member and director of an independent research laboratory at the University of Maryland, Baltimore, Connolly worked on funded research from both the National Institutes of Health and the American Lung Association in the area of cardiovascular systems physiology and bioengineering. She also authored 37 full-length, peer-reviewed publications in those areas.
Connolly is a member of the GBC Bioscience Committee, where she donates her time and expertise toward advocacy efforts for the bioscience community.
The long process for new AIMBE Fellows began with nominations by their peers early last year. Each nominee was also screened by committees of Fellows within their bioengineering specialty. Finally, a final election by the entire College of Fellows was completed in late 2012.
Since 1991, the College of Fellows has led the way for technological growth and advancement in medical and biological engineering. Fellows have helped revolutionize medicine and related fields in order to enhance and extend the lives of people all over the world. They have also successfully advocated for public policies that have enabled researchers and business-makers to further the interests of engineers, scientists, and patients.
Published March 7, 2013