Live News Broadcast at Clark School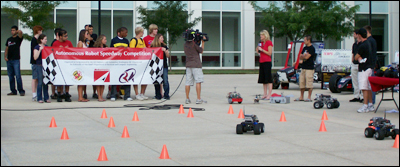 WTTG Fox 5 broadcast live from the
Neutral Buoyancy Research Facility
and from the Kim Building Plaza Thursday morning.
The Washington, D.C., affiliate interviewed students from Robotics@Maryland, which recently won an international Autonomous Underwater Vehicle competition and is hosting a land-based small robot speedway competition this weekend. The team is made up of students from the Clark School as well as other schools on campus.
Other student teams including TerpsRacing and researchers from the Autonomous Vehicle Lab had their technology on display as well.
Links to the footage:
Video from the Neutral Buoyancy Research Facility
Video from the Kim Building Plaza
Published September 4, 2008