Gessow Rotorcraft Center Among Jensen Honorees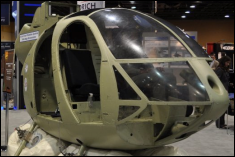 Members of the Smart Structures Laboratory of the Alfred Gessow Rotorcraft Center at the University of Maryland, along with collaborators at Boeing, the U.S. Army Aviation Applied Technology Directorate (AATD), Honeywell, General Dynamics Ordnance and Tactical Systems, have won the 2011 Harry T. Jensen Award by the American Helicopter Society for an outstanding contribution to the improvement of vertical flight aircraft reliability, maintainability, and/or safety through improved design brought to fruition during the preceding year.
The Rotorcraft Active Crash Protection System Development Team, led by Boeing, was successful in bringing a new set of technologies to military rotorcraft through a series of experiments and demonstrations. These new technologies greatly increase the effectiveness of rotorcraft crash protection systems and significantly improve rotorcraft crash survivability.
The effectiveness of crash protection systems can be significantly increased by utilizing an integrated Active Crash Protection System (ACPS) that can sense an impending crash or hard landing event and then actively control the response of the crash protection subsystems to provide the optimum level of aircrew crash protection for the anticipated impact conditions. The team developed a prototype ACPS under contract with AATD to improve crash survivability of rotorcraft aircrew. The ACPS is an integrated system that includes sensors, electronic control unit, and software algorithms that can predict an impending crash event and activate and control the appropriate crash protection subsystems including active internal and external airbags, landing gears, seats, and restraint systems.
For more information, please read the full article at the Department of Aerospace Engineering web site.
Published April 11, 2011