Fired Up Over Inequities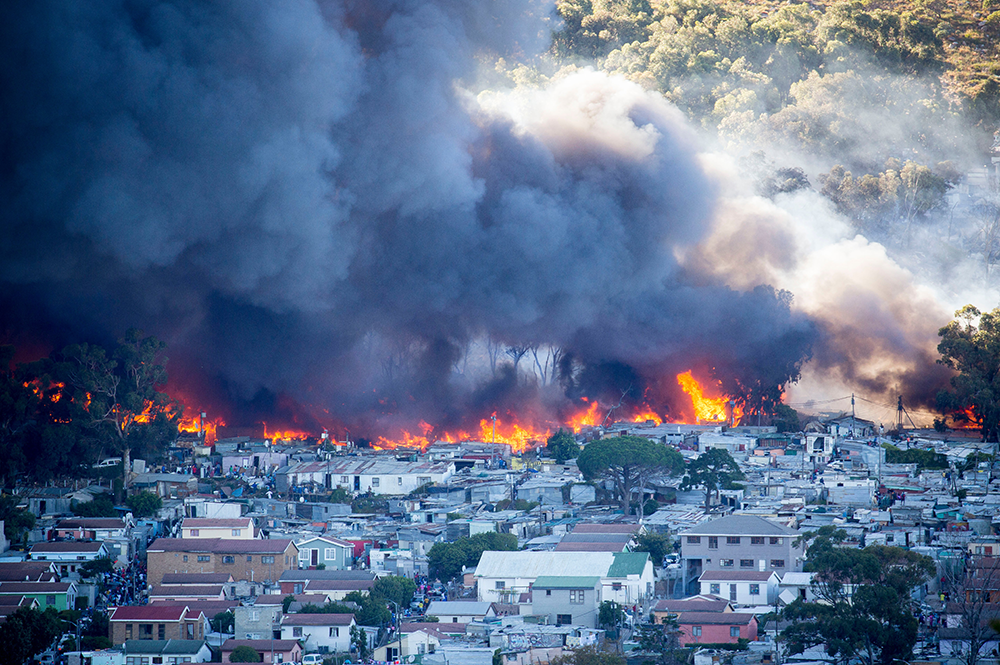 In Cape Town, South Africa, a 2017 fire in an informal settlement damaged 2,194 houses, leaving at least four dead and 9,700 homeless. In Dhaka, Bangladesh, over 80 people died when a massive blaze swept through a historic district of the capital in 2019.
While devastating fires are not limited to the developing world, as violent wildfires on the U.S. West Coast demonstrate, the human cost of fire disproportionately impacts poorer countries, where factors such as overloaded power utilities, dense urban settlements, and open-fire cooking contribute to 95% of the world's total fire-related deaths and injuries, with fatality rates nearly six times higher than in developed countries.
A team of six UMD undergraduates led by Professor James Milke, chair of the Department of Fire Protection Engineering at the University of Maryland's A. James Clark School of Engineering, recently delved into the factors that cause fire safety inequities around the world to help propose solutions.
"We wanted to collect information to see what could become viable solutions," Milke said. "The common denominator or characteristic in the developing world that causes the inequality is the challenging economic conditions. Investing in fire safety is very much an afterthought."
The group examined fire safety measures in workplaces and informal settlements where millions of people live in slum conditions in South Africa, Bangladesh, and Puerto Rico.
Students partnered with Kindling, a Massachusetts-based nonprofit that aims to reduce the impacts of fire on people living in informal settlements, displaced persons camps, and emerging cities generally.
Danielle Antonellis, executive director of the nonprofit, supplied the team with data and literature to help them conduct research. The partnership is expected to be the beginning of a long-term relationship between the Department of Fire Protection Engineering and Kindling Safety to develop equitable solutions to tackle fire safety in development and humanitarian settings around the world.
"Fire safety inequality is a global issue, including here in the U.S.," she said. "At Kindling, we mostly focus on fire safety in countries that have very severe inequalities. People that live in poverty or are marginalized in some way have fewer choices for where and how they live, often leading to higher fire risks, fewer resources to invest in fire safety, and ultimately low coping capacity to deal with a fire if they are affected."
Particularly in informal settlements, the research found that people use low-quality metal or plywood to build shacks in clusters, where fires can spread quickly.
"It gets cold in South Africa in the winter—they're heating or cooking with open flames," Milke said. "So there are a lot of fires that happen with the open flames in part because of misuse or negligence."
In South Africa, he said, students found an increased effort by local governments to provide residential communities with electricity. While helpful in some ways, it has doubled the incidence of fires caused by electrical problems in the last 10 years, including overloaded power outlets and overuse of extension cords.
Water is generally scarce near refugee camps, and other unregulated housing communities in developing countries often have streets that are narrow and unpaved, said Kyra Reed '24, who worked on the informal settlements project focused on South Africa.
"So even if you call the fire services and they're coming, they might not actually be able to get to where the fire is, and they can't actually help you," she said. "Or they might not have access to water, so they might not be able to put out the fire because they have to bring all of the water that they're going to use with them."
Among the team's suggestions to reduce workplace and household fires was the use of a reliable fire detection system—such as fire alarms—to provide early warnings and alert people in the area. Students also developed low-cost, non-technical solutions such as increasing awareness about fire hazards through public education about safe practices, Milke said.
The department in January approved funding for a graduate student to continue researching fire safety inequities in informal settlements—particularly fire evacuation preparedness in refugee sites—in partnership with Kindling, he said. Milke is exploring avenues to keep the current group engaged in the project.
"So much of what we learn is focused on fire protection here in the U.S. or in other countries that are similarly developed to the U.S.," Reed said. "So working on this project was really useful in understanding how, although we might view fires in the U.S. as a relatively small risk, that generally isn't the case for a lot of people."
This story first appeared in Maryland Today.
Published June 2, 2021