Engineering freshmen volunteer for FIRST Robotics "Rebound Rumble"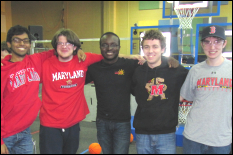 I definitely want to volunteer at this spring's FIRST robotics competitions.
On Saturday, Feb. 18, 2012, twenty high school
FIRST Robotics
teams from Maryland, D.C., and Virginia gathered to test their machines on a real competition field.
Phelps H.S.
in Washington, DC (FIRST Robotics
Team 2912
) hosted the competition and enabled visitors to tour their huge, beautiful metal and wood shops. Five UMD engineering freshmen re-set the field's ramps and balls in between bouts and roamed the pits to offer help in programming.
More photos.
The previous night, eight UMD students had helped about 30 volunteer mentors to transform Phelps' gymnasium into a competition field. The heavy parts were unloaded from a trailer owned and maintained by NASA, which travels among FIRST practice bouts. In a precise sequence, volunteers laid down and taped mason board, attached adhesive strips and laid down carpet squares, and assembled and erected the metal railings and backstops of the 27-feet by 54-feet competition field.
The real challenge for builders, which was overcome by the experienced professional volunteers who return for each competition, was erecting the particular components of this year's challenge, Rebound Rumble. The basketball hoops and chutes and central, tipping ramps, required special assembly. UMD volunteers left before these steps were done, but when we returned at 7:30am, the field was complete; other volunteers had worked until 10:00pm.
As high energy pop music filled the room on Saturday morning, high school teams filed in with their parents, mentors and ... robots! Each team claimed work tables in the pits and began re-assembling the robot they have been building for a month, to test its mettle for the first time on this year's unique competition field. On Tuesday, the build season is over, and teams ship their robots to FIRST to compete in regionals. The teams at Phelps H.S. may compete in any regional, and will likely compete in the Chesapeake Regional at the Baltimore Convention Center (March 8-10) or the DC Regional at the Washington Convention Center (March 29-31).
The STS Programs will be organizing volunteers for these FIRST opportunities as well as volunteers to support the National Science Bowl Maryland Regional (March 10) and USA Science & Engineering Festival (April 29).
Thanks to Volunteers!
For serving 10 hours on Saturday, thanks to Malick Diarra (CompE), Matt Harrington (EE), Daniel Anderson (CompE), Omar Solaiman (BioE), and Patrick Clement (MechE). For the heavy lifting construction phase on Friday night, thanks to to Daniel, Victoria Kelley (CS), Jonathan Mullins (CS), Alex Vu (LTSC), Koji Lopez (CS), Luke Rhodes (ChemE), Courtney Chan (Bio), and Pablo Jakubowicz (CivE). Each of these students is from either the STS or SDU program of College Park Scholars. College Park Scholars is a community of interdisciplinary living-learning programs for academically talented first- and second-year students; the programs feature service as part of education.
Published February 19, 2012