Dr. Hosam Fathy Joins Department of Mechanical Engineering Faculty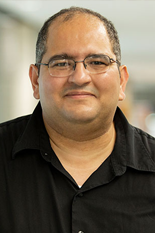 The Department of Mechanical Engineering welcomes Dr. Hosam Fathy to their faculty as a professor. Fathy joins the department with an extensive background in the optimal control of energy systems.
Fathy's research examines a variety of energy systems. This ranges from energy harvesting systems like solar and wind to power generation, storage, and management systems.
"I use optimal control theory to maximize these systems' performance, efficiency, and health," explains Fathy. "I am very excited about being here at Maryland because of Maryland's world-class strengths in a number of areas where my lab has been doing research, and is eager to grow."
Prior to coming to Maryland, Fathy was a faculty member at Penn State University, where his work included a project funded by the U.S. Department of Energy's Advanced Research Projects Agency-Energy (ARPA-E) focusing on the use of connectivity and automation technology to minimize the fuel consumption of heavy-duty trucks.
Fathy received his Ph.D. in Mechanical Engineering from the University of Michigan (2003), his M.S. in mechanical engineering from Kansas State University (1999), and his B.S. mechanical engineering from The American University in Cairo, Egypt (1997).
Published February 25, 2020