Business Plan Competition Finalists Announced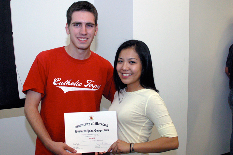 For some the dream is now a well-crafted plan. For others, years of research are culminating in a commercial idea. Others are vetting ideas for future products.
They're solving problems: how to reduce medical errors, how to dispose of aging satellites.
They're offering cures: a smallpox treatment; rapid, nanotechnology-based wound healing; nanoparticles for better vaccine delivery; and small, wireless, wearable devices to monitor hospital patients' vital signs.
They're teaching: with an educational kit for Microelectromechanical Systems (MEMS) instruction, and a Web 2.0-like online learning community.
The nine finalists for the University of Maryland $50K Business Plan Competition will present their business plans to a distinguished judging panel comprised of the region's entrepreneurial and technology leaders on April 27, at the University of Maryland.
The finalists are:
Faculty and Graduate Student Division
Accelign is a company developing technology that quickly fuses or "registers" medical images from multiple sources to create a single, three-dimensional image. Fusing images through Accelign's hardware accelerator gives doctors the ability, using existing imaging equipment, to see the metabolic activity of positron emission tomography (PET) scans, as well as the high resolution anatomical structure of computed tomography (CT) scans, all in one image—resulting in more accurate diagnoses and pre-operative planning.

BioFactura Inc. is a biopharmaceutical development company focused on solving unmet medical and national security needs in the infectious disease arena. Key programs include human therapeutics and biomanufacturing technologies. The company's lead initiative is the development of a novel smallpox therapeutic composed of synthetic, fully human antibodies that have been demonstrated to neutralize poxvirus.  This program is under development in close collaboration with the U.S. Army Medical Research Institute of Infectious Diseases at Ft. Detrick, Md.

Remedium Technologies Inc. is a company developing active wound care products. Based on proprietary technology, Remedium utilizes nanometer-sized containers, anchored to a wound dressing, to deliver therapeutic agents to a wound in a time-controlled manner. Those agents can include both tissue regeneration and anti-infection products.

SD Nanosciences Inc. is a spin-off of the University of Maryland with a proprietary "Triad" technology that has applications in vaccines, cancer diagnostics, and specialty research probes. Triad combines carbohydrates and protein on nanoparticles in a controlled and logical way. SD is developing its platform technology; the company's planned initial products include a vaccine platform, an optical fiber-based diagnostic test, and a biosensor for glycoprotein bioprocessing.
Young Alumni Division
Aid Networks LLC (AIDN) is a seed stage medical device R&D company developing small, portable, wireless, wearable vital sign monitors for hospital patients. AIDN's patent-pending monitors are 15 times less expensive than existing products. Multicenter clinical trials are currently being conducted at the Washington Hospital Center, Johns Hopkins Hospitals, and Harvard Beth Israel.

Erudition is a company developing an online learning community dedicated to providing users with the tools to create and share study materials with classmates, as well as give users the opportunity to enroll in interactive online courses.

Geo-Haul Inc. is developing the Space-Tug, which functions as a tow truck for aging satellites, enabling their proper disposal. The Space-Tug utilizes robotic arm technology developed in the University's Space Systems Laboratory. Geo-Haul's system can dispose of satellites at a fraction of the cost of other solutions offering to comply with U.S. satellite disposal regulations.
Undergraduate Student Division
IMPACT Education LLC develops low-cost educational kits that university professors can use to teach MEMS fabrication outside of expensive laboratory facilities. While those facilities can cost millions of dollars to build, IMPACT's educational kit will cost $500.

Medical Error Reduction through Information Technology (MERIT) is a company developing Meritrack, a low-cost, scalable, and flexible total procedural healthcare systems solution that will reduce human error in healthcare and support efficiency in clinical record keeping. Meritrack will integrate mobile computing, RFID tracking, and relational database technologies into existing clinical and hospital infrastructures.
The University of Maryland $50K Business Plan Competition, now in its seventh year, promotes the commercialization of innovative ideas and University-created technologies by offering faculty, students, and alumni prizes for the best new venture plans. The Competition emphasizes learning by offering one-to-one coaching for finalists, as well as the experience of presenting ideas to an experienced panel of judges.
The Competition has historically awarded a total of $335,000 in prizes to faculty, students, and alumni to launch innovative new ventures. Companies active in the Competition have generated millions in revenues, grants and awards. Past winners include Chesapeake PERL Inc., AnthroTronix Inc., Affiliate Classroom, and Squarespace Inc.
For a complete listing of persons comprising each finalist team, please visit http://www.bpc.umd.edu.
MTECH Ventures provides entrepreneurship education to technology creators and delivers a portfolio of services and resources to bridge the gap between technical ideas and viable ventures.
Published March 28, 2007