Aspiring Entrepreneurs Head to "Boot Camp"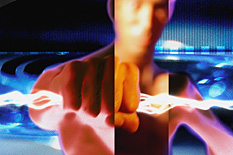 Entrepreneurs Connect and Learn at the University of Maryland Technology Start-Up Boot Camp
The Clark School's MTECH Ventures is hosting its sixth annual UM Technology Start-Up Boot Camp (register now!), the region's premier entrepreneurship workshop for faculty, students, and aspiring entrepreneurs, on Friday, November 3, 2006.
MTECH Ventures provides cutting-edge entrepreneurship education to technology creators and stimulates venture creation by delivering a portfolio of services and resources to entrepreneurs committed to bridging the gap between technical ideas and viable ventures.
This special event, taught by both regional and national leaders in the entrepreneurial community, serves as a comprehensive, one-day introduction to starting a company.
Future entrepreneurs attending the Boot Camp can CONNECT:
INTERACT with new venture experts

MEET grant makers, angel investors and venture capitalists

JOIN with active and aspiring entrepreneurs

APPLY to talk one-to-one with experts and investors about your new venture concept
Attendees will LEARN:
Should you take the leap into technology entrepreneurship?

What are the best ways to fund your new venture?

Is your incredible idea a real venture opportunity?

How do you build a "dream team"?

What's the key to a killer business plan?
New this year is one-to-one mentoring during the afternoon by sign-up through registration, as well as breakout sessions with Fish & Richardson P.C. on intellectual property, and authoring a great business plan with the Maryland Technology Development Corporation.
Expert speakers at the Boot Camp will include: Scott Magids, Director, MTECH Ventures; Dr. Nariman Farvardin, Dean, A. James Clark School of Engineering; Phil Weilerstein, Executive Director, National Collegiate Inventors and Innovators Alliance; Scott Laughlin, Director, University of Maryland VentureAccelerator Program; Brownell Chalstrom, Venture Partner, Avansis Ventures; Jonathan Aberman, Managing Director, Amplifier Venture Partners; Andrew Scherer, COO, Scherer Cybrarian Services; Martin Knott, The Shepherd Group; Christopher Foster, Deputy Secretary, Maryland Department of Business and Economic Development; John P. (Jack) Hollerbach, President, HarVest Bank of Maryland; Mark Kass, Member, Mintz, Levin, Cohn, Ferris, Glovsky and Popeo P.C.; Srinivas Mirmira, Associate, RedShift Ventures; and Anik Singal, CEO, Affiliate Classroom.
Boot Camp sponsors include: Fish  & Richardson, P.C.; Mintz, Levin, Cohn, Ferris, Glovsky and Popeo; the Maryland Department of Business and Economic Development; and Administaff. Supporting organizations include the Greater Baltimore Technology Council, the Consortium of Universities of the Washington Metropolitan Area, and the Northern Virginia Technology Council.
Don't miss the Mid-Atlantic's most exciting entrepreneurship event for faculty and students, right here at the University of Maryland! Register at http://www.bootcamp.umd.edu!
Published October 17, 2006