"A compelling role model for young women"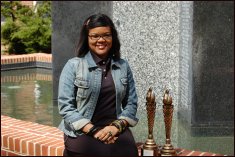 Sophoria "Nikki" Westmoreland, mechanical engineering Ph.D. candidate, has been named the
National Society of Black Engineers (NSBE)
Mike Shinn Distinguished Member of the Year (Female) and the Graduate Student of the Year for 2010. Both awards were presented at the 13th Annual Golden Torch Awards ceremony held April 3 during the NSBE National Convention in Toronto.
The Mike Shinn Distinguished Member of the Year award is presented each year to one male and one female member of NSBE that have exemplified all that the NSBE mission embodies. In order to be considered for the award, a member must compile a nomination packet consisting of several recommendations, transcripts, essays, and a detailed resume. The mission of this award is to provide scholastic motivation to achieve and furthermore, serve as a tool that encourages members to continually strive for academic excellence, while developing professional skills through organization and community involvement. The award includes a $7,500 scholarship and a Golden Torch Award, as well as an additional convention travel stipend and waived registration.
The Graduate Student of the Year award is given to a graduate student who displays exceptional academic achievements, extracurricular activities, personal accomplishments and leadership in engineering or other technical fields. In addition, the student must be nominated by several distinguished persons, have a minimum 3.4 GPA, and also have documented research activities, published articles, demonstrated leadership activities and many campus contributions. Judging for both awards is based on the fulfillment of the NSBE mission through participation in NSBE programs and other activities. The members selected for this prestigious honor receive a Golden Torch Award at the Annual Convention.
"Words will absolutely not adequately describe the feeling I have about accepting these prestigious awards. I am completely honored and I feel like I have been invited to join an elite club of aristocratic scholars including the past award winners and future award winners," says Westmoreland.
"Ms Sophoria Westmoreland exemplifies the very best qualities of students in the ME Graduate program – bright, self motivated, and dedicated to using engineering principles to create a better future," comments Avram Bar-Cohen, Distinguished University Professor & ME department chair. "We are extremely proud of her achievements and delighted that one of our students can be such a compelling role model for young women considering careers in engineering and science."
Westmoreland's doctoral research concentrates on engineering design decision-making. She specifically has focused her research on the cognitive task analysis of undergraduate student design teams during Capstone Design courses, engineering student team training, the analysis of current sketch level schemes/creating new coding schemes, the importance of sketching to engineering design students, and the correlations between grades and report quality. In order to further her research, Westmoreland is currently a teaching assistant for ENME472 (Integrated Product and Process Development), the senior Capstone Design course for ME majors.
Westmoreland received her B.S. in mechanical engineering from Georgia Tech and a B.S. in general engineering with a mechanical engineering concentration from Clark Atlanta University, both in May 2003. Post-graduation, Westmoreland taught an 8th grade engineering design course at Grantham Academy for Engineering in Houston, Texas, before continuing to the Clark School to begin her Ph.D. studies.
Westmoreland reveals she chose UMD, "Because the Clark School had a good reputation and was recommended by one of my undergraduate professors. Also, I had a close friend who is a current ME grad student who recommended the program."
Linda Schmidt, associate professor of mechanical engineering and Westmoreland's advisor, says, "When I first met Nikki she said she didn't want to isolate herself just in her own work and wait to help others after she graduated. Nikki was willing to work harder to incorporate activities important to her with her graduate work. Nikki's commitment to contributing to the campus community now is stronger than that of any student I have met. I am proud to be her advisor."
In addition to her two NSBE awards, Westmoreland has won numerous other awards. She received a 'Bridge to the Doctorate' National Science Foundation Fellowship, and most recently was awarded the 2009 Alfred P. Sloan Foundation Minority Ph.D. Program Fellowship, sponsored by the National Action Council for Minorities in Engineering. Westmoreland is a member of ASME, ASEE, and the Black Engineers Society. After completion of her Ph.D. studies, Westmoreland plans to pursue a career as a mechanical engineering professor.
For more information about NSBE and the Golden Torch awards please, visit their website.
To learn more about the Department of Mechanical Engineering's Graduate Program, please visit their website.
Published April 23, 2010