25 Years of Engineering Sisterhood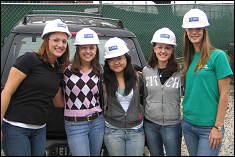 Earlier this fall,
Alpha Omega Epsilon (AOE)
, the professional and social sorority for female engineers, celebrated its 25th anniversary. The sorority strives to promote and assist the advancement of female engineers and to develop lifetime bonds between its members.
Founded at Marquette University in 1983, AOE now spans throughout the United States with chapters at 24 universities to date. The creation of the University of Maryland Colony allowed 18 women to establish the Upsilon Chapter in spring 2006. This number has expanded to 50 active sisters.
Cassie Vose (civil engineering) is the new president of the Upsilon Chapter. She believes that while other organizations exist with the goal of assisting female engineering advancement, AOE offers something special.
"We are held together by sisterhood and friendship," Vose said. "Joining AOE has been one of the best decisions I've made in college."
Throughout the year, Alpha Omega Epsilon sponsors many engineering events, such as Career Day. Featured guests range from professional engineers to motivational speakers.
AOE's participation at Maryland Day earned the chapter the Kids Choice Award and Most Creative Award for their hand-crafted Non-Newtonian Fluid pool exhibit last spring.
In addition to its engineering-related events, AOE also holds many social and philanthropic events. The organization sponsors an annual Date Auction, which raises money for cancer research, and participates in Relay for Life and Saturday of Service events.
"Without the weekly meetings and events I would definitely feel lost in the major," said Alaina Nigro (aerospace engineering). "There are so few girls in engineering and AOE really helps me connect with other girls facing similar pressures and goals."
AOE actively recruits female engineering and computer science majors at the Fall Engineering Picnic and at the beginning of each semester. For more information about the sorority, please visit the University of Maryland chapter at http://www.studentorg.umd.edu/aoes/.
-- Lauren Frye, mechanical engineering student reporter, contributed to this article.
Published December 5, 2008