Wereley Honored for Work in Adaptive Structures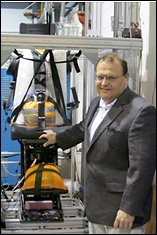 Norman M. Wereley, Techno-Sciences Professor and associate chair in the Department of Aerospace Engineering at the Clark School, will be honored with the American Society of Mechanical Engineers (ASME) Adaptive Structures and Material Systems Prize.
According to the ASME website, the Aerospace Division presents the Adaptive Structures and Materials Systems Prize to an individual who has "made significant contributions to the sciences and technologies associated with adaptive structures and/or materials systems."
Wereley is being recognized primarily for his contributions to the theory and application of semi-active magnetorheological dampers, and their application to occupant protection, vibration isolation, and stability augmentation systems using advanced feedback control strategies. He also has made significant contributions to electrohydraulic actuators, elastomeric damping, composites, pneumatic artificial muscles and their applications to robotics and aerospace actuation systems.
Wereley has co-authored more than 140 journal articles, 10 book chapters, and more than 225 conference articles. He is also co-inventor on 10 patents and more than a dozen pending patents. Many of these patents are being commercialized in collaboration with Techno-Sciences Inc., a local (Beltsville, Md.) firm, as magnetorheological seat suspensions for the SH-60 Seahawk (flight test pending for the U.S. Navy), Rigid Inflatable Boats for the U.S. Special Operations Command (sea trials completed for the U.S. Navy), as well as UH-60 Blackhawk crash protection seating, and mine resistant ambush protected ground vehicle mine blast protection seating, which are both in the development stage.
Wereley will receive the award, and deliver the Adaptive Structures Prize Lecture, at the 20th American Institute of Aeronatuics and Astronautics/ASME/American Helicopter Society Adaptive Structures Conference in April 2012 in Waikiki, Hawaii.
Published December 16, 2011