UMD's Mtech Pronounces: Business Plan Pitches Are Dead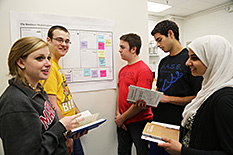 The six student and faculty finalist teams in the new University of Maryland Business Model Challenge won't be writing business plans or making investor pitches.
Instead, they are assessing the product/market fit of their technologies by talking to prospective customers—lots of customers. The teams then integrate this real-world feedback into their business models, dramatically increasing their value to customers.
It's hard, frustrating, work but immensely productive and rewarding. What's more, they are mentored by the university's Mtech Ventures team in their customer discovery efforts and given money to travel to customer sites and conduct the necessary interviews.
Finalist teams will have interviewed a minimum of 25 potential customers.
At the final presentations on Friday, April 26, the team that makes the most progress and displays the most ingenuity in integrating their findings into their business model will be awarded additional funding to continue their work and expand their product validation interviews.
"Business plans have their place, just not at the startup phase," said Craig Dye, Director of Mtech's Venture Programs. "The overarching purpose of this approach is to find a repeatable, scalable business model based upon customer feedback. We're excited to be able to provide UMD students and faculty the opportunity to take their new ventures through a proven process that puts them on a more stable path to success."
Eleven teams, divided into Beginning/Intermediate and Advanced categories, were invited to participate in the Business Model Challenge process from a pool of 44 initial applicants. Up to six teams will present what they learned during the customer development and business model workshop to a panel of judges at the competition finals, held at the University of Maryland on Friday, April 26, from 1-3:30 p.m., in room 1115 of the Computer Science Instructional Center. The event is open to the public (register here).
Beginning/Intermediate level teams include:
CellTrace: developing an automated data extraction software program designed for researchers in the life sciences.
Team: Deborah Hemingway, graduate student, biophysics; Frank Hemingway, graduate student, electrical and computer engineering; Joshua Juen, graduate student, University of Illinois - Urbana Champaign, electrical and computer engineering; and Kimberly Stroka, Johns-Hopkins University, post-doc, bioengineering.

Destinalo: developing an online booking platform dedicated exclusively to offering accommodations in environmentally friendly hotels.
Team: Cristina Huidobro, graduate student, urban planning.

MotionVibe: developing fitness lifestyle technology solutions that improve training, motivation, and communication between professionals and enthusiasts.
Team: Nick Gerontianos, student, digital innovation management studies.

Proteus: developing 3-D filament recycling solutions that allow users to convert waste plastic and plastic pellets into usable filament for 3-D printers.
Team (all mechanical engineering undergraduates): Ethan Nusbaum, J. Scott Wheeler, and Kelly Kempf.

UMDTutor2Go: developing an online system to provide students with private, online tutoring via Skype, live instant messaging chats and audio broadcasts, 24 hours a day, seven days a week.
Team: Chandra Smith, undergraduate student, psychology, human development, and technology entrepreneurship; Changudra Smith, undergraduate student, finance, marketing, and technology entrepreneurship.

Wheel Shields: developing a skateboarding accessory that solves "wheel bite" (a dangerous safety problem), keeps riders dry and allows riders to stand over their wheels.
Team: Chase Kaczmarek, undergraduate student, management and entrepreneurship.
Advanced Level Teams include:
Kitsune: developing a dynamic enterprise software-updating framework that eliminates downtime and keeps vital services accessible.
Team: Edward Smith, undergraduate student, computer science; Michael Hicks, Associate Professor, computer science; Jeffrey Foster, Associate Professor, computer science.

Maryland Energy and Sensor Technologies (MEST): developing a novel, solid-state cooling technology for air-conditioning, dehumidification, and refrigeration applications.
Team: Ichiro Takeuchi, Professor, materials science and engineering; Yiming Wu, Research Associate, materials science and engineering.

Secure Mobile Devices: developing a technology that strengthens the security of mobile devices by combining physical layer technologies with user biological traits and cyber technologies.
Team: John Baras, Professor, electrical and computer engineering and Institute for Systems Research; Vladimir Ivanov, Research Associate, Institute for Systems Research.

Tauros Engineering: developing a technology for the detection and monitoring of bridge scour.
Team: Alison Flatau, Professor, aerospace engineering, Associate Dean for Research, Clark School of Engineering; Tyler Flatau, undergraduate student, government and politics; and Adrian Ross, MBA candidate, Harvard Business School.

Vasoptic Medical: developing a medical device for the early diagnosis and management of diabetic retinopathy and other medical conditions.
Team: M. Jason Brooke, alumnus, University of Maryland and University of Maryland, Baltimore; Abhishek Rege, Ph.D., Johns Hopkins University.
The University of Maryland Business Model Challenge, managed by the Maryland Technology Enterprise Institute (Mtech), a unit of the A. James Clark School of Engineering at the University of Maryland, encourages students, faculty, researchers, staff and recent alumni at UMD and University of Maryland, Baltimore to leverage their talent and ideas to create tomorrow's leading companies. The competition process, its mentors, partners and cash prizes have helped many students, faculty and researchers build their own companies.
Now in its thirteenth year with a new format, the competition was formerly called the University of Maryland $75K Business Plan Competition. Historically, the competition has spurred the commercialization of university technologies and served as a launch pad for multi-million-dollar companies, including AnthroTronix, RioRey, Alertus Technologies, Squarespace and Lurn.
Sponsors of the 2013 competition include Fish & Richardson P.C., Lockheed Martin, and Nixon Peabody LLP.
For more information about the University of Maryland Business Model Challenge and the finals event, visit www.bmc.umd.edu.
Published April 23, 2013