UMD Engineering Receives $22.8M from U.S. Army to Collaboratively Advance Additive Manufacturing Technology
The University of Maryland College Park's research partnership with the U.S. Army Research Laboratory will establish an ecosystem for revolutionary additive manufacturing technology and concepts to expedite national readiness and response.
FOR IMMEDIATE RELEASE October 19, 2020
CONTACT:
Katie Holland Doyle
301 405 0379
khollan3@umd.edu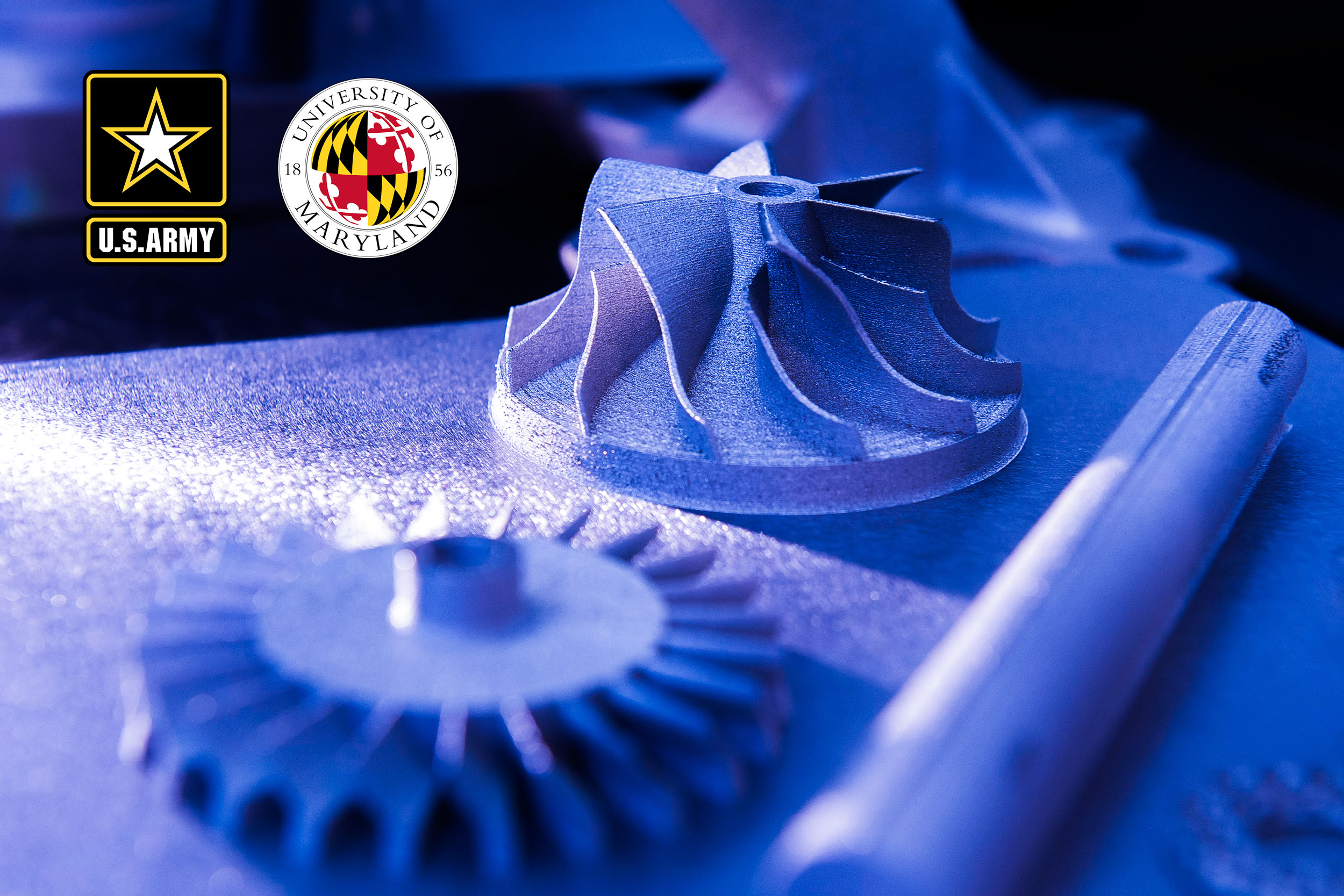 College Park, Md. - The University of Maryland (UMD) and U.S. Army Research Laboratory (ARL) today announced a $22.8 million cooperative agreement, effective October 1, to accelerate cutting-edge foundational additive manufacturing (AM) materials and technology, aiming at helping the United States Army more efficiently and cost-effectively produce equipment with enhanced capabilities for service members.
"Our goal is to build a science and technology ecosystem in the Washington, DC metropolitan area that will encourage groundbreaking advances in basic and applied research in additive manufacturing to achieve deep knowledge creation that will have long-lasting impacts on the U.S. national defense capabilities," said J.C. Zhao, Chair of UMD Department of Materials Science and Engineering (MSE) and the project's principal investigator. "We're honored to partner with the Army Research Laboratory in that pursuit and, with UMD's proximity to its Adelphi and Aberdeen locations, look forward to a lasting regional collaboration."
This venture will further stimulate innovative experimental designs and prototyping, computational modeling and simulations, as well as establish a solid workforce development pipeline, which bridges talent between academia and the Army, with the end goal of advancing Army modernization efforts.
The project funds research across six academic departments at UMD: Profs. Ichiro Takeuchi, Eric Wachsman, and J.C. Zhao (MSE); Profs. Hugh Bruck, Siddhartha Das, Abhijit Dasgupta, Mark Fuge, Patrick McCluskey, Michael Ohadi, Ryan Sochol, and Don DeVoe (Mechanical Engineering); Prof. Norman Wereley (Aerospace Engineering); Prof. Peter Kofinas (Chemical and Biomolecular Engineering); Prof. John Fourkas and Sang Bok Lee (Chemistry and Biochemistry); and Prof. Richard Marciano (College of Information Studies).
"This collaboration will establish the critical foundational knowledge base to enable next generation materials discovery and new products," said Jian Yu, Army Researcher and Cooperative Agreement Manager for the U.S. Army Combat Capabilities Development Command's Army Research Laboratory. "Program outcomes will provide a base for revolutionary AM technology and concepts to expedite national readiness to respond to future challenges and demand."
About the A. James Clark School of Engineering
The University of Maryland's A. James Clark School of Engineering is a premier program, ranked among the top 20 in the world. Located just a few miles from Washington, D.C., the Clark School is at the center of a constellation of high-tech companies and federal laboratories, offering students and faculty access to unique professional opportunities.
Our broad spectrum of academic programs, including the world's only accredited undergraduate fire protection engineering program, is complemented by a vibrant entrepreneurial ecosystem, early hands-on educational experiences, and participation in national and international competitions.
The Clark School is leading research advancements in aerospace, bioengineering, robotics, nanotechnology, disaster resilience, energy and sustainability, and cybersecurity. From the universal product code to satellite radio, SMS text messaging to the implantable insulin pump, our students, faculty, and alumni are engineering life-changing innovations for millions. Learn more at www.eng.umd.edu.