MSE Alumnus Charles M. Gilmore Remembered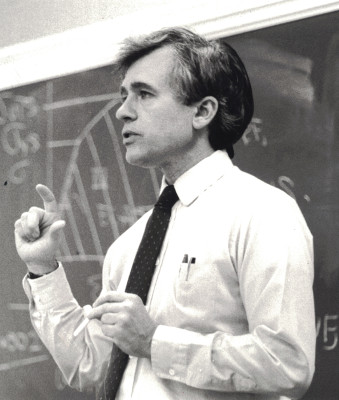 Charles Matthew Gilmore (UMD '71) died at his home in Duck, North Carolina, on October 9, 2017, after a two-year long battle with cancer.
Dr. Gilmore, a native of Erie, Pennsylvania, completed his Bachelor's and Master's in engineering degrees from Pennsylvania State University before relocating the D.C. area. From 1963-1971, he worked at the Naval Research Laboratory, and completed his PhD. in Materials Science Engineering at the University of Maryland in 1971. Dr. Gilmore's thesis, entitled, "Thermal displacements in copper-gold alloys," supported by his advisors, Drs. Pedro Bolsaitis and Leonard Skolnick, was the catalyst of a distinguished career.
Shortly after completing his Ph.D., Dr. Gilmore joined the faculty at George Washington University before retiring as an Emeritus Professor of Engineering and Applied Science. During his tenure at GW, Dr. Gilmore wrote a textbook, entitled, "Materials Science and Engineering Properties." The book was an introduction piece that used thermodynamics to explain the important concepts of materials science to students being exposed to the field for the first time.
At GW, he developed the graduate program in materials science and was responsible for multiple undergraduate courses on the subject. His research resulted in over fifty referred publications on materials science. Additionally, Dr. Gilmore was Chairman of the Department of Civil, Mechanical and Environmental Engineering for several years.
Accolades included receipt of the 1979 George Kimbell Burgess Award from the Washington, D.C. chapter of the American Society of Metals, where he was an active member and chapter chairman in 1984 and 1985.
Dr. Gilmore, who was an avid outdoorsman and volunteer for the Network for Endangered Sea Turtles (N.E.S.T.), is survived by his wife, Charlotte, sister Carole (of Meadville, PA), and brother Robert (of Pierpont, Ohio), in addition to many nieces and nephews
Published October 27, 2017