Liu Selected for IEEE Panel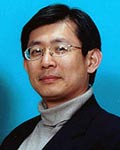 The Institute of Electrical and Electronics Engineers (IEEE), the world's largest technical professional society, featured ECE Professor K.J. Ray Liu and his research at an event marking the organization's 125th anniversary on March 10. Liu was selected as one of seven panelists offering "world changing" technologies that will change the way humans interact with machines, the world, and each other.
The panel of technology experts, moderated by The New York Times senior editor and technology reporter Steve Lohr, discussed emerging technologies in fields ranging from biometrics, computing, wireless power, and cancer research, that they believe have the potential to change the world.
Using signal processing, Liu has developed a theoretical model called "ensemble dependence" for how studying the behavior of DNA can help predict early cancer development. Liu and his research team have developed a model that, by testing the interaction between an individual's genomic and proteomic signaling through a simple blood test, can determine if the patient is in the transition stage to developing cancer, and identify the type. This information will offer the earliest possible prediction of whether an individual is in danger for developing cancer and allow for preventative treatment.
"Our method has yielded very promising performance so far," Liu said. "Investigations of mathematical patterns related to the proposed method have allowed us to pinpoint the transition in between cancer and normal gene patterns."
Liu also delivered a plenary lecture on this topic at the International Symposium on Intelligent Signal Processing and Communication Systems in February.
For more information about the IEEE event, please see the following links:
IEEE "Embracing Human Technology Interactions" Event
Video Webcast of the Two-Hour Roundtable Event (free registration required)
IEEE News Release on the "Embracing Human Technology Interactions" Event
Published March 16, 2009