Hwang To Receive ASHRAE's Distinguished Service Award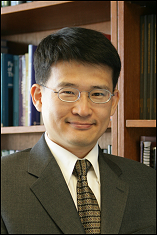 Yunho Hwang, research associate professor of mechanical engineering and associate director of the Center for Environmental Energy Engineering (CEEE) has been chosen recipient of the American Society of Heating, Refrigerating and Air-Conditioning Engineers (ASHRAE) Distinguished Service Award for 2010. He was nominated for the award by Prof. Reinhard Radermacher, director of CEEE.
Working closely with Radermacher at the CEEE has provided Hwang with the opportunity to focus his research on the development of comprehensive information for the detailed physics of transport processes and innovative components and systems for efficient energy conversion.
In addition to his membership in ASHRAE, Hwang serves as secretary of Commission B2 of the International Institute of Refrigeration (IIR). He is also an active member of the American Society of Mechanical Engineers and the Society of Automobile Engineers (SAE). In 2008, he received a Member Service Award from SAE.
The ASHRAE Distinguished Service Award honors those members who have "served the Society faithfully and with distinction on committees or have otherwise given freely of their time and talent on behalf of the Society." The official presentation of the award will occur at ASHRAE's Annual Conference in Albuquerque, N.M., in late June.
Published March 9, 2010