Galloway Contributes Expertise to CNA Corporation Military Advisory Board Report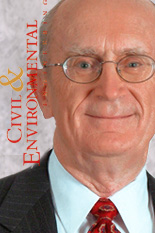 Department of Civil and Environmental Engineering Research Professor and retired Brigadier General Gerald Galloway played an integral role in the release of the CNA Corporation National Security and the Accelerating Risks of Climate Change report released earlier this month.
As a follow-up to its landmark 2007 study on climate change and national security, the CNA Corporation report re-examines the impact of climate change on U.S. national security in the context of a more informed, but more complex and integrated world. As Vice Chairman of CNA Corporation's Military Advisory Board, Galloway joined 15 retired Generals and Admirals in examining new vulnerabilities and tensions posed by climate change, which, when set against the backdrop of increasingly decentralized power structures around the world, they now identify as a "catalyst for conflict."
The report addresses questions regarding emerging threats associated with projected climate change and responses the national security community can take to reduce the risks posed to the United States and its security interests. Read the full National Security and the Accelerating Risks of Climate Change report online.
Galloway served for 38 years as a combat engineer, civil engineer and a military educator in various command and staff assignments in Germany, Southeast Asia and the United States before retiring in 1995.
He commanded the Corps of Engineers Vicksburg Engineer District and was a Presidential appointee to the Mississippi River Commission from 1988 to 1995. From 1994 to 1995, he was assigned to the White House to lead a committee in assessing the causes of the 1993 Mississippi River Flood. In 2006 he chaired an Interagency National Levee Policy Review Team. Since 2010 he has served on the Governor of Louisiana's Advisory Commission on Coastal Protection and Restoration.
He is a graduate of the U.S. Military Academy and holds Master's degrees from Princeton University, Pennsylvania State University, and the U.S. Army Command and General Staff College and a doctorate from the University of North Carolina at Chapel Hill. He is a member of the National Academy of Engineering, has served on thirteen committees of the National Research Council, is chairing two studies of future Army Logistics, and is a member of the National Academies Roundtable on Risk, Resilience, and Extreme Events.
Prior to the report's publication, Galloway addressed the impact of climate change on national security before the Bicameral Task Force on Climate Change on Capitol Hill this March. Galloway was one of three military leaders invited to give expert insights on the topic. He was joined by retired Brigadier General Stephen Cheney, Chief Executive Officer of the American Security Project, and former Captain Jon Gensler, a Cambridge Leadership Associates consultant.
The event was live-streamed by ClimateNexus and is archived on the U.S. House Committee on Energy and Commerce website and YouTube channel.
Published May 29, 2014