Clark School Board of Visitors Chair Awarded Honorary Doctorate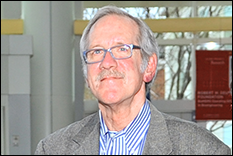 University of Maryland Clark School of Engineering Board of Visitors Chair Thomas H. Scholl was awarded an honorary doctorate degree, Doctor of Letters, during the spring commencement ceremonies at Purdue University on May 16, 2014.
Scholl is a successful entrepreneur, technology innovator, and investor. He has been involved in over 40 start-ups with varying roles including founder, chairman, CEO, board member, and investor. He is experienced in both hardware and software products. Most recently, he was venture partner at Novak Biddle Venture Partners in Bethesda, Md. He has six patents relating to software, the Internet, and digital telephone systems, and he is the author of "Packet Switching" in McGraw Hill's "Electronic Communications Handbook."
Scholl is a graduate of Purdue University in philosophy and literature, and serves as a member of the Dean's Advisory Council of the College of Liberal Arts. In addition to his role as chairman of the Board of Visitors for the Clark School, Scholl is also a member of the Board of Trustees for the University of Maryland Foundation. He is also a trustee at Stevens Institute of Technology and serves as the chairman of the Research Enterprise and Technology Commercialization Committee.
Published May 29, 2014