Espy-Wilson Selected For ADVANCE Program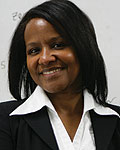 Prof.
Carol Espy-Wilson
(ECE/ISR) has been selected as an
ADVANCE
Professor at the Clark School.
Espy-Wilson will serve as the ADVANCE Professor for Women Faculty of Color in science, technology, engineering, and mathematics (STEM), and will work alongside Prof. Alison Flatau, another ADVANCE Professor in the Clark School. Espy-Wilson's new appointment begins in spring of 2011.
The ADVANCE Program for Inclusive Excellence aims to transform the institutional culture of our university by facilitating networks, offering individual mentoring and support, and offering information and strategic opportunities for women faculty in all areas of academia. Through initiatives funded by a five year, multi-million dollar grant from the National Science Foundation, the ADVANCE Program aims to produce academic environments with assumptions, values and beliefs, policies and practices that support and generate professional growth and excellence for all faculty.
Espy-Wilson received her B.S. in electrical engineering from Stanford University in 1979. She received her M.S., E.E. and Ph.D. degrees in electrical engineering from MIT in 1981, 1984 and 1987, respectively. She was on faculty at Boston University from 1990 to 2001 and is professor in the Clark School's electrical and computer engineering department and the Institute for Systems Research. She directs the Speech Communication Lab at the Clark School. She is the founder of OmniSpeech, a start-up that offers technology to improve sound quality over cell phones and in hearing aids, among other devices. She recently was named Innovator of the Year by the Maryland Daily Record.
Published February 8, 2011