Clark School Opens New Daikin Energy Innovation Laboratory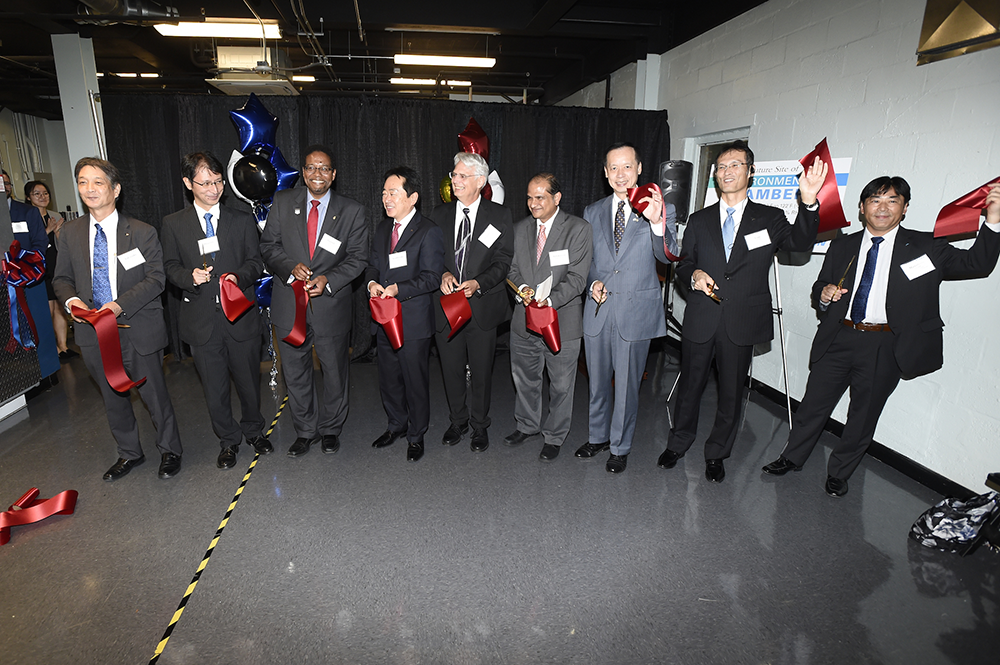 The University of Maryland's A. James Clark School of Engineering formally opened the Daikin Energy Innovation Laboratory on September 11, 2019, in honor of the more than 20-year partnership between the Department of Mechanical Engineering's Center for Environmental Energy Engineering (CEEE) and the global heating, ventilation, air conditioning, and refrigeration manufacturer Daikin.
In the 125th anniversary year of the Clark School, Daikin has pledged $500,000 to support the future of energy engineering in the United States, continuing a commitment to CEEE that now exceeds $2.5 million. The Daikin Energy Innovation Laboratory is a 3,600 square-foot state-of-the-art facility that will feature the latest modern equipment, including flame-resistant climate chambers, heat transfer measurement technologies, and facilities for experimental alternative cooling technologies.
The lab will further enhance research capabilities in CEEE and the Department of Mechanical Engineering, which is ranked 16th in the nation for its graduate program. CEEE has core expertise in heat pump technology and is a leading environmental energy engineering centers in the United States with proven HVAC design and optimization software development capabilities.
"Our continued partnership with Daikin has helped the Center for Environmental Energy Engineering to advance new technologies in heating and cooling, and has been a boon to our students," said center Director Reinhard Radermacher. "Energy engineering is crucial for addressing climate change and for a successful transition to to renewable resources. Partnering with Daikin and the industry as a whole on innovative solutions ensures our students will be prepared to solve the real challenges of climate change as states continue to adopt new regulations."
Daikin is a leading international company with products sold in over 150 countries and a mission to improve the environment and quality of life through heating and cooling solutions. Its continued partnership with CEEE will reinforce Daikin's reputation as a leader in the energy efficiency industry, as well as demonstrate Daikin's renewed commitment to the education of the next generation of energy engineers.
"The new Daikin Energy Innovation Laboratory reflects our shared commitment to change the way that we condition indoor air through leading edge research and innovation," said Daikin U.S. Corporation President Yogi Uemura. "Having worked with the University of Maryland for over two decades, we know their capabilities and are proud to continue the partnership to create sustainable cities and improve people's productivity, health, and happiness."
UMD's College Park campus is the ideal location for Daikin's first named academic research lab in the United States due to its proximity to institutions in Washington, D.C., including the U.S. Department of Energy and the Environmental Protection Agency, which can use the laboratory's research to advance energy and environmental policies into the 21st century.
Published September 14, 2019