Clark School Mourns the Passing of Professor Linda Schmidt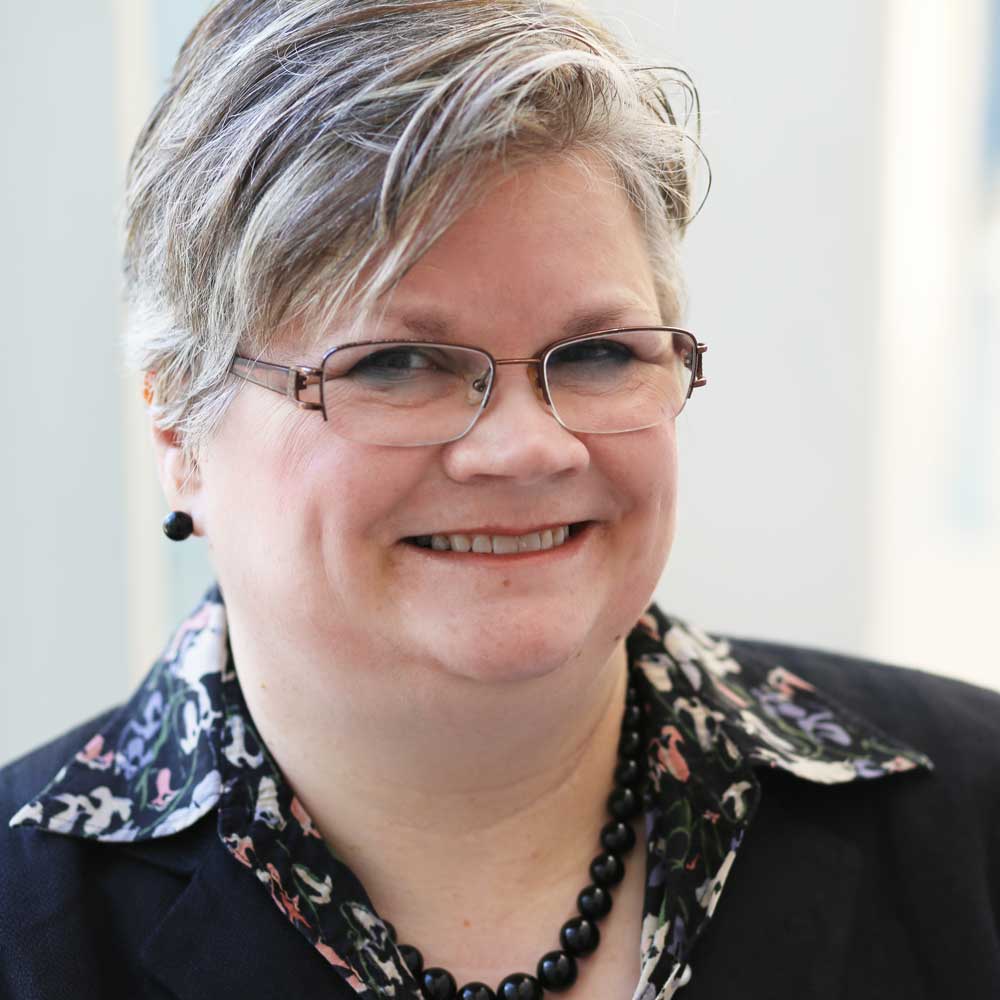 It is with profound sadness that the Clark School shares news of the passing of Dr. Linda Schmidt, professor in the Department of Mechanical Engineering. She was 62.
Born in Blue Island, Ill., Dr. Schmidt received her undergraduate (1989) and graduate degrees (1991) in Industrial Engineering from Iowa State University before going on to complete her Ph.D. in Mechanical Engineering from Carnegie Mellon University in 1995.
Dr. Schmidt joined the University of Maryland community in 1995 as an assistant professor, and over the course of her academic career here, established herself as a leader in innovative engineering design research activities and teaching techniques.
Her efforts in the department were instrumental in creating the Design ME Suite—a workroom where students can hold group meetings, brainstorming sessions, and use a wide selection of construction tools and materials—which she directed since 1999. Today, this suite includes the Create & Test Lab, Modeling Lab and Ideation Lab.
The Design ME Suite not only informed Dr. Schmidt's research activities, but also served as the home for the development and advancement of the Department of Mechanical Engineering's design related undergraduate and graduate curriculum and education of several thousands of our mechanical engineering students.
From that foundation, Dr. Schmidt's work was instrumental in developing and teaching fundamental components of the department's design curriculum, especially, the junior-level course (ENME371) "Product Engineering and Manufacturing," and the senior capstone design course (ENME472) "Integrated Product and Process Development," for which each semester, the department hosts the showcase event, Design Day.
"Dr. Schmidt was a terrific colleague, who was a mentor for many a faculty member and student in the unit and the College. Her advisees remember her as more than an advisor, and as someone who helped shape their professional careers and beyond," said Balakumar Balachandran, mechanical engineering department chair. "Over the past twenty five years, Dr. Schmidt's approach has been singular, and her design theory and methodology research informed her design education efforts and vice versa. Beyond UMD, she enjoyed a distinct international reputation as a thought leader in the design engineering community."
Along with the late Dr. George Dieter, Schmidt co-wrote Engineering Design, now in its sixth edition and considered a classic textbook for teaching principles in the design process.
She is also credited with co-founding the inter-disciplinary, multi-university partnership Building Engineering Student Team Effectiveness and Management Systems (BESTEAMS), through which fifteen workshops have been conducted resulting in the direct training of several thousands of students.
Connecting with students and fostering the creative, problem-solving skills needed to be the best engineer possible was a cornerstone of Schmidt's teaching and mentoring of students.
Her dedication was recognized with a 2004 Outstanding Gemstone Mentor Award from UMD's Gemstone Program, the 2008 American Society for Engineering Education (ASEE) Fred Merryfield Design Award from the American Society for Engineering Education and in 2014, the American Society of Mechanical Engineers made her a Fellow for her influential role in the development of the field of engineering design and lasting contributions to the field.
Dr. Schmidt will be deeply missed. Please keep her family in your thoughts.
A private service will be held for Dr. Schmidt at McLaren's Resthaven Chapel in West Des Moines, Iowa, at 1:30 p.m. on Thursday, March 25, 2021.
The service will be available virtually. To leave condolences and to view the service livestream, please visit www.mclarensresthavenchapel.com.
In lieu of flowers, the family requests individuals consider a donation to one of these University of Maryland funds that Dr. Schmidt supported:
Published March 22, 2021