Booz Allen Hamilton Colloquium Series Announced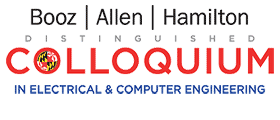 The Clark School's Booz Allen Hamilton Distinguished Colloquium Series in Electrical and Computer Engineering (ECE) will feature eight speakers this fall, speaking on a wide range of subjects, from automatic speech recognition to computational imaging.

The Booz Allen Hamilton Distinguished Colloquium Series in ECE features distinguished speakers from across the nation and around the globe, and also provides venues in which ECE faculty at the Clark School can showcase their research to a broad audience of their colleagues and students, as well as friends of the university. The Distinguished Colloquium Series is sponsored by Booz Allen Hamilton.

The following offers a brief overview of each of the eight speakers and their talks:



September 9, 2011
Saving the World Together, One Server at a Time
Partha Ranganathan, Hewlett Packard
Jeong H. Kim Engineering Building, Rm. 1110
3:00 p.m.
See Video of Colloquium Talk

Power and energy management, and more recently environmental sustainability, are emerging as central issues in systems design. The next order-of-magnitude improvements in these areas will come from rethinking how we approach and optimize energy efficiency -- "holistically" across traditional design boundaries. This talk will discuss several such optimizations from the data-centric data center project at HP Labs, specifically focusing on a new system architecture approach called "nanostores." Our nanostore-based design leverages emerging non-volatile memories and optics to eliminate nonessential caching layers and provide balanced computation co-located with the data. Such a design, cross-cutting the technology, architecture, and software layers, can achieve significant improvements in energy efficiency (10X-50X).




September 16, 2011
Why Engineers Should Grow a Long Tail
Prof. William Hammack, University of Illinois
Jeong H. Kim Engineering Building, Rm. 1110
3:00 p.m.
See Video of Colloquium Talk

Bill Hammack gives a primer to his fellow engineers on how to think about new media, focusing on how the engineering profession should communicate in a user-generated media era. Bill draws on his own experiences on YouTube to illustrate what engineers need to know to grasp the mindset of new media and to understand the underlying changes in the media landscape that will outlast the latest social networking tools. He tackles what exactly is meant by new media; and then looks into what engineers should communicate to the public. In addition to looking at communicating from a high vantage point, he offers tips for any engineers who to engage the public who is video blogging.




September 23, 2011
Behavioral Signal Processing and Informatics
Prof. Shri Narayanan, University of Southern California
Jeong H. Kim Engineering Building, Rm. 1110
3:00 p.m.
See Video of Colloquium Talk
Human behavior is exceedingly complex. Its expression and experience are inherently multimodal, and are characterized by individual and contextual heterogeneity. The confluence of sensing, communication and computing is however allowing access to data, in diverse forms and modalities, that is enabling us understand and model human behavior in ways that were unimaginable even a few years ago. No domain exemplifies these opportunities more than that related to human health and well being. Consider for example the domain of Autism where crucial diagnostic information comes from manually-analyzed audiovisual data of verbal and nonverbal behavior. Behavioral signal processing advances can enable not only new possibilities for gathering data in a variety of settings--from laboratory and clinics to free living conditions—but in offering computational models to advance evidence-driven theory and practice.

This talk will describe our ongoing efforts on Behavioral Signal Processing—technology and algorithms for quantitatively and objectively understanding typical, atypical and distressed human behavior—with a specific focus on communicative, affective and social behavior. Using examples drawn from different domains, the talk will also illustrate Behavioral Informatics applications of these processing techniques that contribute to quantifying higher-level, often subjectively described, human behavior in a domain-sensitive fashion. In particular, we will draw on examples from our work on health domains such as Autism, Addiction, Family Studies, Obesity and Traumatic Stress disorders to illustrate the challenges and opportunities for behavioral signal processing.




October 14, 2011
Chaotic Synchronization in Optical Networks
Prof. Thomas Murphy, University of Maryland
Jeong H. Kim Engineering Building, Rm. 1110
3:00 p.m.
See Video of Colloquium Talk


Synchronization is a widespread phenomenon that is observed in both natural and engineered systems. From fireflies to fiber optics and phase-locked loops, the ability of systems of interconnected entities to synchronize is crucial to proper function. Surprisingly, even chaotic systems, which exhibit highly aperiodic behavior and sensitive dependence on initial conditions, can synchronize when two or more systems are connected. In this talk, I will discuss recent experimental studies of chaotic synchronization in optical networks. Our research seeks to develop new ways to control and exploit the process of synchronization even when the network is changing, and to understand the role of network topology in achieving synchronization.




October 28, 2011
Verification & Control of Hybrid Systems Using Reachability Analysis
Prof. Claire Tomlin, University of California-Berkeley
Jeong H. Kim Engineering Building, Rm. 1110
3:00 p.m.
See Video of Colloquium Talk

This talk will present reachability analysis as a tool for model checking and controller synthesis for dynamic systems. We will consider the problem of guaranteeing reachability to a given desired subset of the state space while satisfying a safety property defined in terms of state constraints. We allow for nonlinear and hybrid dynamics, and possibly nonconvex state constraints. We use these results to synthesize controllers that ensure safety and reachability properties under bounded model disturbances that vary continuously. We also consider the effects of sampling and quantization. The resulting control policy is an explicit feedback law involving both a selection of continuous inputs and discrete switching commands at each time instant, based upon measurement of system state. We discuss real time implementations of this, and present several examples from multiple aerial vehicle control, human-robot interaction, and multiple player games.




November 11, 2011
Automatic Speech Recognition: Trials, Tribulations and Triumphs
Prof. Sadaoki Furui, Tokyo Institute of Technology
Jeong H. Kim Engineering Building, Rm. 1110
3:00 p.m.
See Video of Colloquium Talk

Automatic speech recognition (ASR) technology has made remarkable progress over the last 20-30 years. ASR represents the state-of-the art in terms of simulating some aspects of human cognition and, although ASR systems are yet imperfect, it is quite impressive that they work as well as they do. There remain however, many difficult issues and challenges at every level. In most ASR applications, computers still make 5-10 times more errors than human subjects. One of the most significant differences exists in that human subjects are far more flexible and adaptive than machines in response to various variations of speech, including individuality, speaking style, additive noise, and channel distortions. For this reason, there are as yet only a handful of good applications, and they are generally limited in terms of their domain, and the conditions they may be used under. How to train and adapt statistical models for ASR using limited amounts of data is one of the most important research issues. Future systems need to have an efficient way of representing, storing, and retrieving various knowledge resources required for natural spoken conversation.




November 18, 2011
Pushing the Limits of Computational Imaging
Prof. Shree Nayar, Columbia University
Jeong H. Kim Engineering Building, Rm. 1110
3:00 p.m.
See Video of Colloquium Talk
Computational imaging uses unconventional optics to capture a coded image, and an appropriate algorithm to decode the captured image. This approach of manipulating images before there are recorded and processing recorded images before they are presented has three key benefits.


First, it enables us to implement imaging functionalities that would be difficult, if not impossible, to achieve using traditional imaging. Second, it can be used to significantly reduce the hardware complexity of an imaging system. Lastly, under appropriate imaging conditions, it allows us to break the limits of traditional imaging. In this talk, I'll show recent examples of imaging systems that demonstrate these benefits. I'll conclude with a brief discussion on the fundamental limits of computational imaging.



December 9, 2011
Compressive Sensing Based MIMO Radar
Prof. Athina Petropulu, Rutgers University
Jeong H. Kim Engineering Building, Rm. 1110
3:00 p.m.
See Video of Colloquium Talk

The talk will present a new approach for colocated multiple-input multiple-output (MIMO) radar using compressive sensing (CS). CS-based MIMO radar exploit the sparsity of targets in the illuminated space to achieve the same localization performance as traditional MIMO radar but with significantly fewer measurements. Each receive node of the MIMO radar compresses the received signal via a linear transformation, referred to as measurement matrix. The compressively obtained samples are subsequently forwarded to a fusion center, where an optimization problem is formulated and solved for target information. The measurement matrix plays an important role in CS recovery algorithms. The talk will also discuss optimal design of the measurement matrix and also reduced complexity suboptimal constructions for it.


Published August 8, 2011