An Opportunity to Shape the Field…While Still a Student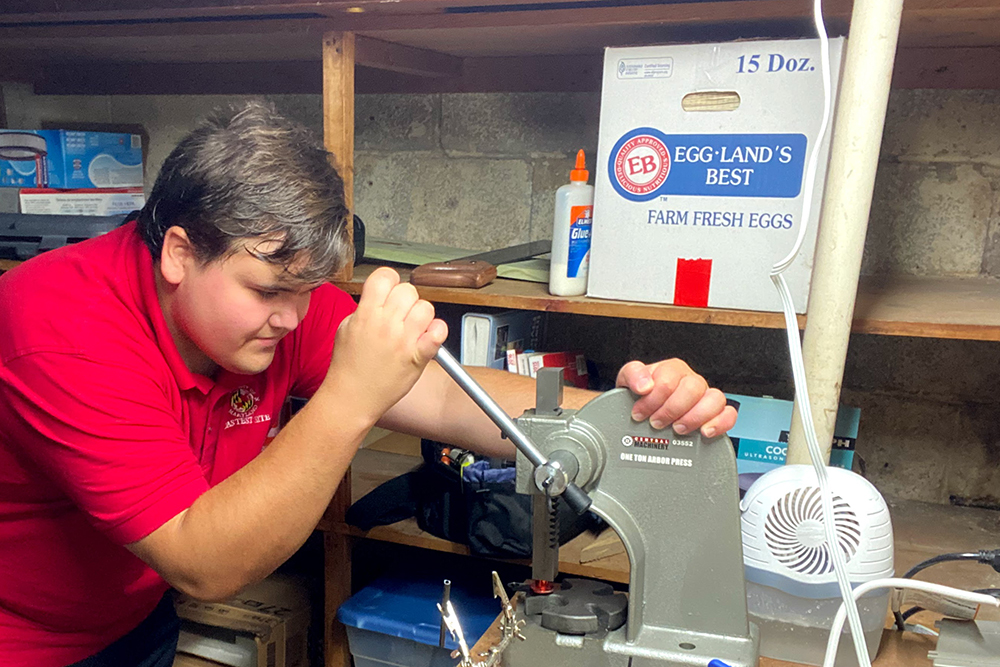 Five enterprising students have spent their summer in Southern Maryland, working on innovative unmanned systems projects under the guidance of expert pilots and engineers at the University of Maryland UAS Test Site.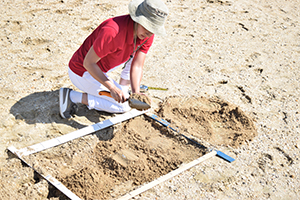 Ethan Aus, Paola Herbas, John McDonald, Eoin Schneider and Qingwen Wei were selected for this year's summer internship program at the Test Site. Each came with a project proposal that they then developed over the course of the summer, making the most of the Test Site's facilities and equipment.
During weekly presentations, the participants briefed the UMD UAS Test Site team on their progress, using quad charts to cover aspects ranging from budget and schedule to technical challenges.
The students say the UMD UAS Test Site program is very different from a typical internship—in a good way.
"It's not something that you sign up for and they tell you what to do. You have to take the initiative to create your project and follow through during the entire summer," said a Paola Herbas, an aerospace engineering senior at UMD whose internship project is focused on landmine detection. "You get to experience what it is to do research and be a project leader."
John McDonald, also an aerospace engineering student, agrees. For his internship project, he focused on equipping an unmanned aircraft with a directional antenna that can be used to transmit or receive distant signals.
"The fact that we get to come up with our own projects and do exactly what we want to do is amazing to me," he said. "That's an opportunity you don't usually get elsewhere."
"It's not something that you sign up for and they tell you what to do. You have to take the initiative to create your project and follow through during the entire summer."
The 2021 program wraps up this month, though several participants, including Herbas and McDonald, plan to continue work on their projects during the school year. Applications for the 2022 internship program will be accepted starting in March. For more information, visit go.umd.edu/uasinterns.
UMD UAS Test Site Interns—Summer 2021
Ethan Aus (mentor, Josh Gaus) is designing and manufacturing a removeable platform that will allow a quick change between different autopilots in a "plug and play" manner for the Penguin UAS.
Paola Herbas (mentor, Derrick Yao) is creating a system to locate PNM-2 landmines buried in sandy soil with a thermal sensor and an unmanned aircraft. She is working with a simulation to first create the base of how the aircraft will maneuver. Then test the aircraft and the sensor together to ensure the simulation works.
John McDonald (mentor, Derek Paley) is designing and building a 2-axis antenna tracker that will point a directional antenna at a ground station. It will be controlled by the UAS flight controller and will be able to either send or receive signals at a longer range than standard omnidirectional antennas.
Eoin Schneider (mentor, John Short) is working to create an inexpensive drone-based send-receive GPR system for landmine detection that transmits a GPR signature reflected off a subsurface training landmine buried in a sandpit.
Qingwen Wei (mentor, Derek Paley) has developed a folding quadcopter that can be deployed from a larger drone. The quadcopter arm folds out using its own thrust and rubber bands. It can be deployed from a larger UAS to closely examine points of interest.
Photos: 1) John McDonald, a rising aerospace engineering sophomore, works on his UMD UAS Test Site summer internship project; 2) Paola Herbas, a rising aerospace senior, buries plastic landmine simulators in sand before a flight test.
Published August 10, 2021