Zhang Named Rabin Distinguished Professor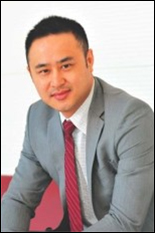 Department of Civil and Environmental Engineering Associate Professor Lei Zhang has been appointed the Herbert Rabin Distinguished Professor in the A. James Clark School of Engineering, effective July 1, 2016. The four-year appointment recognizes Zhang's sustained and influential scientific and scholarly work in transportation engineering.
"Dr. Zhang has served as a champion for transportation engineering research and education," said CEE Chair Charles Schwartz. "He works tirelessly to address critical transportation challenges that impact everything from our commutes to work, the shipment of goods, economic development, and national security. His work, along with that from our other Transportation faculty and our Center for Advanced Transportation Technology, have positioned the University of Maryland as a leader in transportation engineering."
Zhang is Director of the National Transportation Center at the University of Maryland (NTC@Maryland), one of only five national centers funded by the U.S. Department of Transportation University Transportation Center program. He received his B.S. in civil engineering from Tsinghua University and earned his M.S. degrees in civil engineering and applied economics and a Ph.D. degree in transportation engineering from the University of Minnesota.
Zhang has published more than 200 peer-reviewed journal and conference papers on topics including transportation planning, transportation economics and policy, travel behavior, advanced travel demand modeling, transportation data and survey methods, and traffic operations. He has received external funding support from various U.S. federal and state government agencies and private foundations, exceeding $20 million.
Zhang is a recipient of the National Science Foundation CAREER Award, the Transportation Research Board Fred Burggraf Award, and many international best paper awards.
In 2014, the U.S. Department of State nominated Zhang as the U.S. candidate for the APEC Science Prize for Innovation, Research and Education (ASPIRE), in recognition of his commitment to excellence in scientific research in Intelligent Transportation and Sustainable Development.
The Rabin Professorship, established by an anonymous donor, supports new and emerging fields in engineering and honors Professor Herbert Rabin's dedicated service to the engineering profession and industry. Dr. Rabin is a professor emeritus with the Department of Electrical and Computer Engineering. He previously served as Interim Dean and Associate Dean of the College of Engineering and as Professor of Electrical and Computer Engineering since 1983. Rabin was also the founding director of the Maryland Technology Enterprise Institute (MTECH), a program established to bridge the gap between university research and industry needs.
Published February 15, 2016