UMD Launches Biocomputational Engineering Degree Program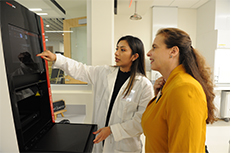 The University of Maryland (UMD) announced today the official launch of a new bachelor of science degree program in biocomputational engineering (BCE), making the university one of the nation's first to offer such a degree.
On track to welcome upperclassmen transfer students for Fall 2021 enrollment, the BCE program is rooted in the university's A. James Clark School of Engineering and housed at the Universities at Shady Grove (USG) in Rockville, Maryland. In this way, students can take full advantage of USG's offerings—including its commuter-friendly location and new 220,000-square-foot Biomedical Sciences and Engineering building—while earning a University of Maryland, College Park degree.
"The Clark School offers leading-edge education on the country's most pressing engineering needs—and biocomputational engineering is one of them," said Robert Briber, Interim Dean of the Clark School and Professor of Materials Science and Engineering. "We're doing world-class research on batteries, quantum technology and more, and we're glad to be a driving force in biocomputational engineering. Maryland is home to one of the nation's largest and fastest-growing biotech corridors. Our program's graduates will be uniquely positioned to enter that workforce."
The BCE program marks the Clark School's second degree offering at USG, following the embedded systems and internet of things (ESIOT) degree program established by the Department of Electrical and Computer Engineering.
"We are excited for the biocomputational engineering program to follow on the heels of the embedded systems and internet of things degree program, which will be welcoming its first students this fall," said USG Executive Director and Associate Vice Chancellor of the University System of Maryland Stewart Edelstein. "Students in these programs will have access to USG's new Biomedical Sciences and Engineering building, which features state-of-the-art facilities for teaching and learning, and continues to draw cutting-edge degree programs to the USG campus.The biocomputational engineering program offers a unique opportunity for students to earn a degree that can help to open so many career doors in a county that is one of the nation's premiere hubs for biotechnology and bio-health."
The BCE program was established in part due to increased industry demand for engineers with expertise in the physical and biological sciences as well as in computation and data science. BCE graduates can expect to enter the workforce armed with advanced knowledge of programming (including Python, C++, and R), modeling, and machine learning, as well as fundamental bioengineering competencies such as physiology, cellular and molecular biology, and computational mass transfer. As such, BCE graduates will be well suited for rewarding careers in the public and global health, biotechnology, data science, health IT, and biostatistics fields, among others.
"The new BCE program will be a pioneering force in 21st century medicine, bringing together the life science and engineering fundamentals of bioengineering with the data sciences, artificial intelligence, and machine learning efforts at the forefront of computational sciences," said John P. Fisher, Fischell Family Distinguished Professor and Chair of UMD's Fischell Department of Bioengineering (BIOE).
"Because of the unique combination of problem solving abilities, fundamental knowledge in biology, and data science skills, the graduates of the BCE program will be able to pursue extraordinary career pathways with opportunities to tackle complex problems in the biomedical and healthcare fields," said Ian White, BIOE Associate Professor and Associate Chair and faculty lead on the BCE program launch.
The Clark School will begin accepting transfer applications in January 2021 for Fall 2021 enrollment in the BCE degree program. More information regarding admissions requirements and the application process is available via biocomp.umd.edu or by contacting program coordinator Emily Bailey via biocomp@umd.edu.
Published August 3, 2020