Sezmi Launches Customer Pilot in Los Angeles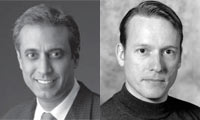 Yahoo! Finance is reporting
that this week the television start-up company Sezmi will kick off a customer pilot in Los Angeles, delivering live feeds of 23 cable networks, 50 local TV channels, video-on-demand and Web video through its DVR set-tops, using a combination of wireless broadcast spectrum and Internet delivery.
Sezmi was founded by alumni Phil Wiser (ECE B.S. '90), former CTO of Sony America; and Buno Pati (ECE B.S. '86, M.S. '88, Ph.D. '92), founder of Numerical Technologies. At Maryland, Pati was advised by P.S. Krishnaprasad (ECE/ISR). This fall he was inducted into the A. James Clark School of Engineering's Innovation Hall of Fame for his work in phase-shift lithography.
Sezmi offers a user-friendly interface that allows customers to browse programs in a variety of different ways, using a remote and box that is roughly the size of a DVD player.
The cable networks participating in Sezmi's L.A. launch are: TBS, TNT, USA Network, Bravo, CNN, Headline News, Discovery Channel, Comedy Central, Planet Green, MSNBC, VH1, Cartoon Network, Oxygen, CNBC, MTV, Nickelodeon, TLC, Science Channel, Syfy, Animal Planet, truTV, Boomerang and TCM.
| Read the story at Yahoo.com |
Published November 16, 2009