O'Shea to Head Electrical and Computer Engineering Department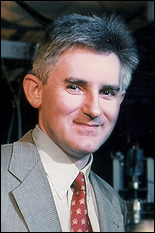 Professor Patrick O'Shea has been named the new chair of the Clark School's Department of Electrical and Computer Engineering (ECE).
"I am particularly pleased with this appointment," said Nariman Farvardin, professor and dean of the Clark School. "Dr. O'Shea has an outstanding record of accomplishments both in his scholarly activities and in his classroom teaching and student mentoring. He brings to this position a wealth of administrative experience, a high level of energy and the necessary aspiration to move the department to an even higher level of excellence and national distinction."
An alumnus of the University of Maryland (MS '82 and PhD '86, both in physics), O'Shea has served for four years as director of the Clark School's Institute for Research in Electronics and Applied Physics (IREAP) and as an ECE faculty member for six years. He is a Fellow of the American Physical Society, and a Fellow of the Institute of Electrical and Electronic Engineers.
Dr. O'Shea's current research is in the area of charged particle beam technology and applications.
Dean Farvardin said that Dr. O'Shea received the unanimous endorsement of the search committee and the overwhelming support of the faculty, staff and students. Dr. O'Shea will begin his duties as chair on August 23, 2005. He succeeds Professor Steve Marcus, who served as ECE chair for the last five years.
During Dr. Marcus' tenure as chair, the department has increased faculty research funding and expenditures, raised the quality of its undergraduate and graduate student populations, hired a significant number of outstanding new faculty, and earned increasing recognition for its academic excellence through faculty awards and national publications. Dr. O'Shea hopes to continue the momentum during his time as department chair.
"I am honored and delighted to have the opportunity to lead the department into its second century at Maryland," said O'Shea. "We have established a tradition of excellence in ECE, and I foresee an even brighter future."
Published June 23, 2005