Ohadi Awarded USM Regents' Faculty Award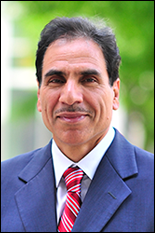 Department of Mechanical Engineering Professor Michael Ohadi was selected as a recipient of a 2014 University System of Maryland (USM) Regents' Faculty Award for Excellence in Innovation by the USM Board of Regents. This award is the highest honor that the Board bestows in recognition of exemplary faculty achievement.
Ohadi is a founding faculty member of the University of Maryland's (UMD) Center for Environmental Energy Engineering and has close to 20 years of industrial and academic experience in the areas of heat transfer, fluid flow, thermal energy conversion and electrohydrodynamics.
Ohadi currently heads a team funded by a $2.1 million contract from the Defense Advanced Research Projects Agency's (DARPA) Intrachip/Interchip Enhanced Cooling (ICECool) Program to develop "embedded cooling" technology for compound semiconductor microchips and high power electronic systems. His team will use an innovative two-phase micro thin film/microfluidics and on-chip thermoelectric coolers to provide an order-of-magnitude improvement in chip cooling rates, while reducing the volume of the cooling package and the amount of the cooling fluid in circulation.
In 2012-2013, Ohadi collaborated with UMD's Facilities Management (FM) and Information Technology (IT) divisions to carry out a project—Energy Consumption Audit and Modeling—that evaluated the primary data center on campus during academic year 2012-2013. Using student support and logistical help from the IT and FM divisions, Ohadi and his team identified five major energy savings/carbon footprint reduction measures. When implemented, these measures could save well over $100,000/year in energy costs and 1000 tons/year in carbon emissions.
In 2013-2014, Ohadi continued collaborations with IT and FM (led by the Energy Management office) to conduct energy audit and consumption modeling on campus. During this cycle, Ohadi and his team are evaluating the research data center and the Jeong H. Kim Engineering Building. They expect to identify similar energy saving measures for the research data center as they found for the primary data center, while the goal for the Kim Building is a 20% energy savings. Their results currently demonstrate that this measure is possible, and if implemented, the Kim Building could save nearly $300K/year in electricity consumption with corresponding carbon foot print savings.
Ohadi also recently co-authored the book "Optimum Cooling of Data Centers" that was published by Springer in November of 2013. The book was written with Jun Dai, a former Ph.D. student from UMD's Center for Advanced Life Cycle Engineering, Professor Michael Pecht and Dr. Diganta Das. Ohadi is a fellow of both American Society of Mechanical Engineers (ASME) and the American Society of Heating, Refrigerating and Air Conditioning Engineers (ASHRAE), and he has received numerous awards from these two societies.
Only up to eighteen Regents' Awards are given annually throughout the entire University System of Maryland, and they are awarded in six categories—collaboration; mentoring; public service; research, scholarship, and creativity activity; teaching; and innovation. Awardees will be recognized on April 11, 2014 during a special breakfast ceremony and public session of the full board meeting at the University of Maryland Baltimore County.
2014 is the third consecutive year that Mechanical Engineering faculty have been recognized with a USM Regents' Faculty Award. In 2013 Professor and Associate Chair Don DeVoe received the USM Regents' Faculty Award for Excellence in Research, and in 2012, Professor and Director of Undergraduate Studies Ken Kiger was recognized with the USM Regents' Faculty Award for Excellence in Teaching.
Published March 19, 2014