Mechanical Engineering Design Day Fall 2015
The Department of Mechanical Engineering held the Fall Design Day on December 8, 2015 from 11 a.m. to 2 p.m. in the Kim Engineering Building. This semester, Design Day showcased 29 student teams, all featuring original product prototype designs. A wide range of exhibits including everything from a device that simulates a horse's walking motion for therapy applications and a hands-free sheet music turner to a window that can open and close automatically depending on temperature differentials and an automated tennis racquetwrapper.
Sponsors Intralox and Boeing helped the support the day's festivities, while Intralox employees Andy Akers and Matthew Fourney were on hand to judge teams and share their expertise with the students.
Design Day highlights the talents and creativity of mechanical engineering students in the Integrated Product and Process Development Course. In addition, the event offers an opportunity for regional high school students to visit the campus and experience firsthand what pursuing a degree in mechanical engineering is all about.
This semester, students from Baltimore Polytechnic Institute came and had an opportunity to engage with students, learn about the projects and get a closer look at the design process.
Teams of senior level students present project prototypes built to solve selected engineering problems, with the top voted team receiving the "People's Choice Award" and having their names displayed in the Mechanical Engineering undergraduate office.
Visitors cast a record setting number of votes for this semester's "People's Choice Award," and the top student teams were:
FIRST Place:
Team TB(D)12, Gawker Blocker
A versatile, easy to assemble incident screen to be used by first responders at major highway accidents.

Team Members: Toni Davis, Keya Gemechu, Michael Goglia, Everett Gollomp, Josh Marotske, and Jeffrey Shaer
SECOND Place:
Mean Clean Mugging Machine, VelocciMug
Robotic travel mug washer: Clean your mug while you wait in line at the coffee shop.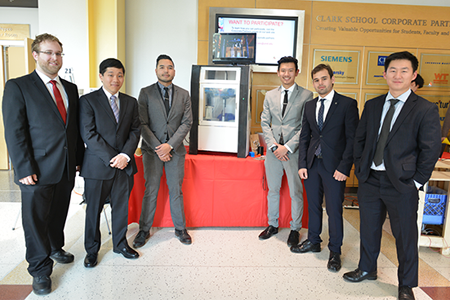 Team Members: Chris Cao, Joshua Dellota, Kyle Fennell, Alvaro Haesbaert, Kane Shim, and Dave Tarr
THIRD Place (a tie):
Get a Grip, Wrap Masters
An automated device that provides a customized grip tape wrap for a variety of sports sticks i.e. tennis racket, lacrosse stick, etc.
Team Members: Richard Gill, Teresa Heuver, Julian Hylton, Kenneth Jarvis, William Poh, and Robert Walsh
Seal Team Six, Rapid Medical Emergency Response Drone (R.M.E.R.D.)
The R.M.E.R.D. delivers and dispenses medical devices to those suffering from reaction-based medical emergencies.

Team Members: Kyle Crandall, David Edelen, Joseph Holman, Sony Ninan, Furqan Qureshi, and Paul Romero
The Department would also like to thank our tireless guest judges who made this Design Day a success:
Andy Akers (Intralox), Tim Arnold, Les Bookoff, Bruce Dale, Matthew Fourney, George Halow, Barry Koh, Daniel Kurtz, Benson Kwong, William Leasure, Barry McQuay, Cara Monterosso, Mylene Motsebo, James Newton
In case you missed out on the action, photos from the event can be found here.
Published December 11, 2015