Maryland Remains a Top School for Entrepreneurially-Minded Students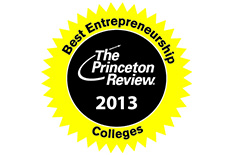 The University of Maryland continues to be one of the nation's top schools for entrepreneurially-minded students. The Princeton Review and Entrepreneur Magazine's annual rankings of the top 25 undergraduate and graduate school programs shows UMD has moved up to 14th on the undergraduate list - up from 18th last year. The graduate rankings remain in the top 25 - coming in at 24th this year.
The Princeton Review and Entrepreneur Magazine have partnered for a number of years to create the ranking report. Surveys are conducted with school administrators from April through June. Some 2300 schools were part of the 60 question survey for this year's rankings. Entrepreneur Magazine will again feature the survey in its October issue that is available on newsstands September 25.
Data used to evaluate programs at Maryland and other schools include:
Levels of commitment to entrepreneurship inside and outside the classroom;

The percentage of faculty, students and alumni actively and successfully involved in entrepreneurial endeavors;

The number and reach of mentorship programs;

The amount of scholarships and grants for entrepreneurial studies and projects and

Support for school-sponsored business plan competitions.
The A. James Clark School of Engineering's Maryland Technology Enterprise Institute (Mtech) is widely recognized for its campus and national leadership in undergraduate entrepreneurship programs, including the Hinman CEOs Program, the nation's first living-learning entrepreneurship program, and its highly successful annual technology business plan competition. The Robert H. Smith School of Business is a major driver of entrepreneurship education at the university, with its 26-year-old Dingman Center for Entrepreneurship championing programs university-wide for students, faculty and regional entrepreneurs.
UMD President Wallace Loh has made Innovation and Entrepreneurship (I&E) a major focus of his tenure in College Park. Just recently, the university was ranked 4th in the nation in 2013 for aspiring entrepreneurs by the website unigo.com. And thanks to the leadership provided by this university, the state of Maryland was named #1 in entrepreneurship and innovation by the U.S. Chamber of Commerce this summer. At that time, Vice President for Research and Chief Research Officer Dr. Patrick O'Shea pointed to UMD's dedication to "creating a culture of entrepreneurship among our faculty, students and alumni."
Maryland's rankings are the result of a focus on growing entrepreneurship programs across campus - with the Smith and Clark schools leading the way. University officials say they will continue to suport and grow I&E opportunities for faculty, staff and alumni into the future.
Maryland Technology Enterprise Institute (Mtech)
Mtech's entrepreneurship education initiatives in 2011-2012 included 18 entrepreneurship courses, with 932 enrollments. More than $335K in scholarship funding was given to students engaged in Mtech's entrepreneurship education programs during that same year.
Mtech's entrepreneurship education portfolio also includes two living-learning programs, one transfer scholarship program, seed funding, a $75,000 business plan competition and mentoring. New initiatives this past year include the first Maryland High School Business Plan Competition, the Entrepreneurship Essentials Online Program, and a new, free entrepreneurship course announced through Coursera.
Highlights of Mtech's entrepreneurship education programs include:
Minor in Technology Entrepreneurship: This new, 15-credit undergraduate minor prepares students for launching successful technology ventures and bringing life-changing products and services to market.

Hinman CEOs Program: As the nation's first living-learning entrepreneurship program, Hinman CEOs is a groundbreaking initiative placing entrepreneurially-minded students from all technical and non-technical academic disciplines in a unique community. Students live together, learn about entrepreneurship, and can launch new ventures. Two Inc. 500 companies have emerged from the program since its launch in 2001.

Hillman Entrepreneurs Program: Hillman Entrepreneurs is a scholarship program for students beginning their study at Prince George's Community College who have an interest in entrepreneurship and an enthusiasm for starting a business venture or leading a company. The program includes entrepreneurship and leadership courses, intense mentoring, networking opportunities, and community building

Entrepreneurship and Innovation Program (EIP): EIP provides University of Maryland Honors College freshmen and sophomores with an interdisciplinary, living and learning education to help build the entrepreneurial mindsets that includes experiential learning, challenging academics, a living community, coaching and mentoring, and access to funding.

University of Maryland $75K Business Plan Competition: This annual technology business plan competition features investor pitches to venture capitalists and entrepreneurs and $75,000 in prize money. Winners include five multi-million dollar ventures and two Inc. 500 companies.
Mtech's overall programs add to these offerings with product development funding, free intellectual property services, entrepreneur office hours, a venture accelerator, prototype lab, incubator, and additional support for companies throughout their lifecycles.
Dingman Center for Entrepreneurship
The Dingman Center, located at the Robert H. Smith Schoolof Business, helps lead the university's entrepreneurship effort.. It is recognized nationally for its innovative teaching methods that combine classroom activities, practical experience and cultural immersion programs. The most recent U.S. News ranking of undergraduate entrepreneurship programs (2011) ranked the Smith School's program #15 in the country. Acclaimed programs in the schools' Dingman Center include:
Pitch Dingman: Weekly sessions that invite students campus-wide to pitch business ideas for immediate feedback from seasoned entrepreneurs-in-residence. The program hosts competitions twice per semester where students pitch to a panel of entrepreneurs for $2,750 seed funding.

Cupid's Cup Business Competition: A national business competition sponsored by Under Armour founder and Smith School alumnus Kevin Plank '96, to identify and reward passionate student entrepreneurs with impactful businesses.

China Business Plan Competition: An annual MBA global studies trip and business plan competition in partnership with Peking University. Teams from the Smith School, the Technion in Israel and top Chinese universities present business ideas that incorporate the Chinese market for cash awards.

Dingman Center Angels: The region's most active angel investor network connecting entrepreneurs seeking seed and early-stage funding with angel investors.

Technology Transfer: In conjunction with the Clark School of Engineering's Maryland Technology Enterprise Institute and the university's Office of Technology Commercialization, this program has MBA students helping to create businesses out of university research and technologies.

Dingman Jumpstart: An intensive five-day bootcamp to experience the venture creation process including lectures, workshops and advising sessions.

Published September 26, 2012