Maryland Engineering Mourns Matthew Witczak, Professor Emeritus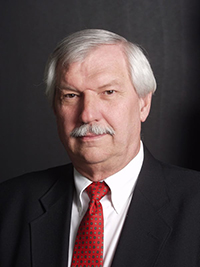 The engineering community at the University of Maryland (UMD) mourns the passing of Matthew W. Witczak, professor emeritus of civil and environmental engineering (CEE), who died at his home on Tuesday (January 18).
A UMD faculty member from 1973 to 1999, Witczak developed much of the geotechnical and pavement curriculum used by the department. He was the department chair from 1983 to 1987, and also served for many years as graduate student advisor. A scholarship in his honor, the Dr. Matthew W. Witczak Graduate Award, was established with an initial endowment by Bill Wainger and Kenneth Bell. It is awarded annually to an incoming graduate student with a focus on geotechnical engineering and pavement design.
"Dr. Witczak was a monumental force in civil and environmental engineering at Maryland," said Alba Torrents, interim chair of the department. "He built many of the foundations of the program that exists today, and our students continue to benefit from his legacy."
Charles W. Schwartz, who stepped down as CEE chair in the fall of 2021, worked closely with Witczak for many years. He describes Witczak as "one of the true pioneers of modern pavement engineering."
"Matt was an engaging but demanding teacher, a prolific researcher, and a much-sought consultant for both highway and airfield pavement problems," Schwartz said.
His professional achievements were both numerous and impactful. Witczak led the team that developed a groundbreaking airfield pavement management system for the Port Authority of New York and New Jersey, with implementation at John F. Kennedy, La Guardia, and Newark International airports.
He also headed the development of a new mechanistic-empirical pavement design procedure to replace the decades-old empirical AASHTO methodology. Most state highway agencies in the United States today utilize the results of this multimillion-dollar, multi-year project. His consulting work, meanwhile, took him to the roads of Brittany to assess road damage caused by cleanup traffic after the Amoco Cadiz oil tanker spill, to military airfields on Diego Garcia in the Indian Ocean to strengthen runways used by B-52 bombers, and to countless other project locations throughout the United States and beyond.
The book Principles of Pavement Design, co-authored by Witczak and Eldon Yoder, is considered seminal in the field, laying down key elements of mechanistic pavement design, and continuing today as a valuable reference tool for the pavement engineering community. "His research work on the constitutive modeling and behavior of asphalt mixtures has impacted paving engineering profoundly, and continuous to influence performance prediction modeling today," said Dimitrios Goulias, associate professor of civil and environmental engineering at UMD.
After retiring from UMD, he moved to Arizona State University (ASU) where he served on the faculty until his final retirement in 2011. At both UMD and ASU, Witczak mentored "a veritable army of graduate students, many of whom have gone on to become leaders in the field in their own right," Schwartz said. In addition to the graduate award at UMD, endowed scholarships were also established in his name at Arizona State.
Witczak is survived by his wife Claudia, his children Steve, Karen, Kenny, and Mindy, and numerous grandchildren.
Published January 20, 2022