Kishek Named 2013 APS Fellow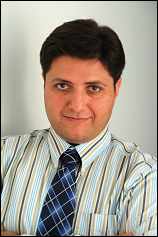 Research Prof. Rami Kishek (IREAP, ECE) has been named a 2013 American Physical Society Fellow. APS fellows are limited to one half of one percent of the total APS membership; in being named a fellow, Prof. Kishek is joining an elite group of fellow researchers whose contributions to the theory and applications of physics inform and advance our understanding of the universe, from the smallest to the largest particles.
Each fellow is nominated to the Council of the American Physical Society by their division. Prof. Kishek was nominated for the honor by the Division of Physics of Beams, which takes as its mission "the advancement and diffusion of knowledge regarding the nature and behavior of beams and the instruments for their production and use."
Prof. Kishek is being honored "for ground breaking theory of multipactor discharge, and for contributions to the understanding of physics of space-charge-dominated beams." In 1998, he proposed a novel form of the multipactor, a device for engineering the secondary emission of electrons caused by high-energy electrons striking a surface under the right conditions. This research proposed charging the dielectric surface on which the electrons are excited and revealed that doing so considerably changes the dynamics of the multipactor discharge.
Since 1998, Prof. Kishek has continued his work on multipactors and the physics of space-charge-dominated beams as a Principle Investigator in the University of Maryland Electron Ring (UMER), a laboratory that "aspires to understand the science of accelerated beams [to] build beter accelerators." UMER faculty and students have built a particle accelorator whose ring shape allows them to conduct an "innovative program based on low-cost, scaled experiments that are closely-coupled with theory and computer simulation."
Published January 6, 2014