Jim Wallace Appointed Professor Emeritus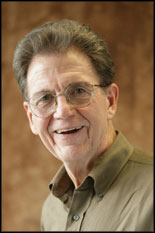 Mechanical Engineering professor and former Gemstone Director Jim Wallace was appointed professor emeritus on September 1 and will enter a new phase of a career that has spanned over 37 years at the university.

Wallace joined the ME faculty in September 1975. The courses he taught include fluid mechanics, turbulent flow, and experimental methods. He also held a variety of leadership roles such as assistant provost of engineering and associate dean of the A. James Clark School of Engineering in the 1980s, and associate chair of the graduate studies department in the early 1990s.

Wallace later served as director of the Gemstone Program for 11 years. The Gemstone Program is a research curriculum for high-achieving students based in the Honors College and created by former Dean of the Clark School of Engineering William Destler. As Gemstone director, Wallace enjoyed helping each entering class of around 200 students "become polished young adults by the end of the four-year process."

Although retired, Wallace will remain active in the engineering community through the Burgers Program for Fluid Dynamics, which brings together faculty from the Clark School of Engineering and College of Computer, Mathematical, and Natural Sciences. He will continue serving as director of this program for the next three years and help organize symposia as well as student and faculty exchanges with the multi-university J.M. Burger Center in the Netherlands. Wallace also plans to devote more time to his hobby of creating sculptures out of metal. A steel sculpture he created, "Endless Curve," will be mounted outside Ann Arundel Hall later this year.
Published September 14, 2012