Jewell Named Presidential Early Career Award Recipient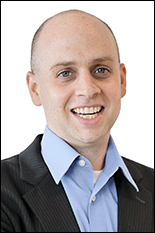 The White House named University of Maryland A. James Clark School of Engineering faculty member Christopher Jewell a recipient of the Presidential Early Career Award for Scientists and Engineers (PECASE). The PECASE is the highest honor bestowed by the U.S. government to outstanding scientists and engineers who are beginning their independent research careers and who show exceptional promise for leadership in science and technology.
Jewell was recognized for his cutting-edge immune engineering research, as well as the STEM education opportunities he has provided for more than 500 area high school students through his creation of the Program to Enhance Participation in Research.
Jewell, whose PECASE nomination was sponsored by the National Science Foundation (NSF), is an associate professor and associate chair with the Clark School's Fischell Department of Bioengineering, the director of the UMD BioWorkshop, and a faculty member of the Robert E. Fischell Institute for Biomedical Devices. Jewell's research integrates immunology and biomaterials to decipher the interactions between synthetic materials and immune tissues. His Immune Engineering Lab also uses this unique expertise to improve therapeutic vaccines for cancer and autoimmune diseases such as multiple sclerosis and Type 1 diabetes.
Prior to this honor, Jewell was named a Damon Runyon-Rachleff Innovator, an NSF CAREER Award recipient, and both a Nanoscale Science & Engineering Forum Young Investigator Award and Owens Corning Award recipient from the American Institute of Chemical Engineers. Jewell was also previously honored as the state of Maryland's Outstanding Young Engineer by the Maryland Academy of Science, the state's highest honor for an engineer under the age of 36.
"I am tremendously proud of Dr. Jewell. He has been a stellar faculty member ever since arriving at the University of Maryland," said Clark School Dean and Farvardin Professor Darryll J. Pines. "This Presidential Early Career Award is a testament to the excellence of Dr. Jewell's notable contributions to the field of bioengineering and human health at large."
Jewell earned dual B.S. degrees in chemical engineering and molecular biology from Lehigh University, and received his Ph.D. in chemical engineering from the University of Wisconsin – Madison. In addition to his Clark School appointments, Jewell is a research biologist with the U.S. Department of Veterans Affairs at the Maryland VA Health Care System and a full member of the University of Maryland Marlene and Stewart Greenebaum Comprehensive Cancer Center.
"This is an incredible honor. When I launched my lab, it was support from the NSF that really catalyzed our immune engineering research and the partnerships we were able to form with local schools," Jewell said. "Receiving the PECASE is a humbling milestone and a chance to reflect on all the great people, trainees, mentors, and scientists that have helped us push forward in the lab, the classroom, and the community."
Earlier this summer, Jewell and his lab celebrated two new National Institutes of Health (NIH) Research Project Grants (R01) totaling $3 million in funding to support multiple sclerosis therapies and cancer vaccine design, respectively. The grants – both of which are classified as NIH Bioengineering Research Grants – were announced on the heels of two other active NIH R01 grants for which Jewell leads or is co-funded, and an ongoing Research Merit Award he leads at Baltimore's U.S. Department of Veterans Affairs. All told, Jewell and his Immune Engineering Lab are currently supported by more than $7.5 million in active research funding.
The PECASE awards, established by President Clinton in 1996, are coordinated by the Office of Science and Technology Policy within the Executive Office of the President. Awardees are selected for their pursuit of innovative research at the frontiers of science and technology and their commitment to community service as demonstrated through scientific leadership, public education, or community outreach.
Published July 3, 2019