Innovation Hall of Fame Inductee and Alumnus Campanella Passes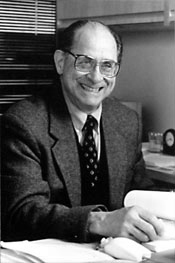 University of Maryland A. James Clark School of Engineering alumnus and Innovation Hall of Fame inductee Dr. S. Joseph Campanella passed away peacefully on December 19, 2013 in Lakewood Ranch, Florida. He was 86.
Campanella was a life-long resident of the Washington, DC area. After graduating from Gonzaga College High School in 1945, he entered the United States Navy as an Electronics Technician working on submarine sonar and radar systems. He earned his BSEE, Magna Cum Laude in 1950 and DEE in 1965 from Catholic University of America, and his MSEE degree in 1957 from the University of Maryland.
Early in his career he worked in a variety of disciplines including sonar, fire-control, audio and EM wave signature classification, signal processing, communications, and speech source coding (vocoders). While working at Melpar, he rose to Vice President of Electronics Research and held that position until 1967. Dr. Campanella then moved to COMSAT Laboratories, ultimately taking the role of Vice President and Chief Scientist, during which time he led his team towards many industry innovations and 15 patents.
Campanella was inducted into the Clark School's Innovation Hall of Fame in May 1996 for pioneering work in the development of digital satellite communications technology.
He received the IEEE Behn Award in International Communications. After becoming Chief Technical Officer of WorldSpace, Campanella retired at the age of 81.
He was preceded in death by his wife of 43 years, Philomena, and brother Vincent. He is survived by his son John and daughter-in-law Angela.
Read his full obituary here.
Published December 30, 2013