Farvardin Professorship Fund Reaches $500K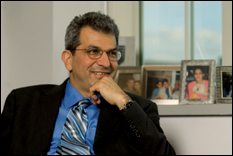 A professorship fund established in honor of Nariman Farvardin, former Clark School dean and current UM provost, has reached $500,000.
The professorship will be used to provide support to recruit or retain a professor of engineering.
A gift of $140,000 by Jeong H. Kim helped the fund to reach the $500,000 milestone. Kim is a professor of practice in reliability engineering at the Clark School and the man for whom the Kim Building is named.
Kim's gift is one of four leadership gifts toward the fund. The other three have come from Clark School Board of Visitors Chair Tom Scholl, Aris Mardirossian (B.S. '74 and M.S. '75, mechanical engineering) and Clark School benefactor A. James Clark.
The fund has also been supported by numerous gifts by Clark School faculty, staff, alumni and friends.
"We are grateful to all donors whose generosity led to the endowment of the Nariman Farvardin Professorship," said Interim Dean Herbert Rabin. "A named professorship is an appropriate testament to Dr. Farvardin's leadership of the Clark School of Engineering from 2000 to 2007."
To learn more about the Great Expectations campaign and how you can make a difference in the Clark School's progress, please contact Steve Beeland.
Published September 26, 2007