Convocation to Honor Faculty, Staff Accomplishments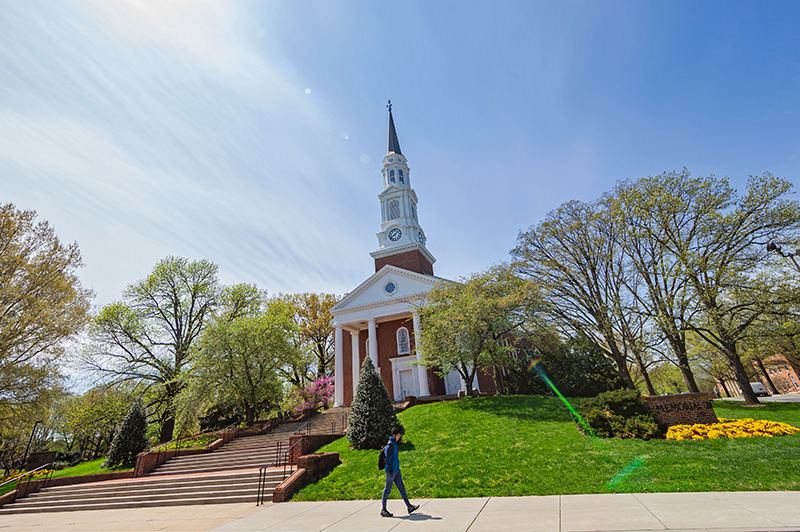 The University of Maryland's 39th annual Convocation will honor 24 faculty and staff—including four from the A. James Clark School of Engineering—for their contributions to education, research, and the campus community.
The ceremony will be held Wednesday, September 14 at 2 p.m. at Memorial Chapel (7600 Baltimore Ave., College Park, MD 20740).
In an academic setting, a convocation is a time for the university community to gather and officially usher in the academic year and to celebrate achievements across the campus. Academic and service honorees, selected by their peers, wear robes and caps befitting the formal tone of the occasion, as would professors during commencement ceremonies. The word convocation is taken from the Latin words com (meaning together) and vocare (to call).
Maryland Engineering's 2022 honorees include:
PAIGE SMITH
Director, Women in Engineering Program
President's Distinguished Service Award
In her more than two decades at UMD, Smith has made engineering a more inclusive, welcoming, and supportive field for women and underrepresented students. Since 2001, Smith has been director of Women in Engineering, which encompasses the living-learning communities Flexus and Virtus, a peer mentoring program, peer tutoring, technical workshops, outreach programs for middle and high school students, scholarship opportunities, and more. The programs have led to higher retention rates and more engaged students. Smith also has a long tenure on the UMD President's Commission on Women's Issues, where she advocates for women's needs and interests across the university. Under Smith's leadership, the number of women majoring in engineering has grown by 85 percent, while the number of women earning bachelor's degrees in the field increased 158 percent.
ALLEN P. DAVIS
Professor and Charles A. Irish Sr. Chair in Civil Engineering
Distinguished Scholar-Teacher
Davis is a leader in stormwater management and green infrastructure design who imbues his students with a drive to discover new ways to improve water quality. His peers know Davis as a highly published stormwater researcher, with more than 140 refereed journal articles and over 14,000 Google Scholar references. He is a registered professional engineer active in issues throughout the state and region. His work with Prince George's County helped lead to rain gardens on the UMD campus; he frequently uses them for lessons and research projects with his students. He teaches several central courses in his department, receiving enthusiastic reviews, and has mentored more than 70 Ph.D. and master's students. He is the youngest-ever recipient of the Clark School's E. Robert Kent Outstanding Teaching Award, awarded to him in 1992.
KENNETH KIGER
Professor and Associate Dean for Undergraduate Programs
Distinguished Scholar-Teacher
On questions as diverse as how air flows through models of the human lung or how ocean waves move sand, Kiger is internationally recognized in the broad field of fluid dynamics. At the same time, he is known as an inspiring and award-winning teacher who integrates his scholarly work with his undergraduate and graduate instruction. Motivated in part by what he calls "the aesthetic beauty of fluid motion," Kiger has published 80 peer-reviewed papers and conference proceedings and has more than 2,700 Google Scholar citations. He is an enthusiastic and respected teacher of mechanical engineering; unique aspects of his classes are based directly on work in his laboratory. He is also committed to the administration of educational programs in the Clark School, recently guiding the implementation of a new teaching paradigm, the "Mastery-based Assessment Approach."
BALAKUMAR BALACHANDRAN
Minta Martin Professor and Chair, Department of Mechanical Engineering
Distinguished University Professor
Ranging from the experimental realm to analytical and computational research, Balachandran has established himself as a world expert in nonlinear dynamics, renowned for foundational and applied contributions to the field. His research achievements are broad in scope, including the nonlinear dynamics of milling and drilling, nonlinear aerodynamics and aeroelasticity, nonlinear phenomena in microelectromechanical systems, vehicle dynamics, stochastic dynamics of nonlinear oscillators, and theoretical analysis of nonlinear systems with state-dependent delays. He has authored or co-authored more than 120 articles in top journals, two influential books, and 20 book chapters. He holds several patents related to fiber optic sensors and atomic force microscopy. Balachandran is also among a handful of researchers who have received both the J.P. Hartog Award and the Lyapunov Award from the American Society of Mechanical Engineers (ASME) for lifetime achievements in vibration research and nonlinear dynamics, respectively.
Read more about the 2022 UMD Convocation honorees.
Published September 9, 2022