C.D. Mote, Jr. Delivers Roy V. Wright Lecture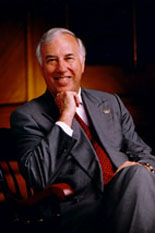 The American Society of Mechanical Engineers (ASME) recently recognized Regents Professor and Glenn L. Martin Institute Professor of Engineering C.D. (Dan) Mote, Jr., with the ASME Roy V. Wright Lecture and Award. Established in 1949 in honor of Roy V. Wright, ASME's 50th president, the lecture is a way to impress on engineers and all young people, the duties, responsibilities and privileges of citizenship in our democracy.
Dr. Mote, who is the current president of the National Academy of Engineering and a former president of University of Maryland, spoke about an aspirational vision of what engineering needs to deliver to all people on the planet in the 21st century. His lecture, titled "The National Academy of Engineering's Grand Challenges for Engineering and the Scholars Program," covered how the NAE's Grand Challenges report generated a biannual series of Global Grand Challenges Summits hosted by the NAE, the Chinese Academy of Engineering, and the U.K. Royal Academy of Engineering.
The NAE Grand Challenges Scholars Program, which was launched in 2009, aims to encourage young engineers to work on global challenges and prepare students (through an educational supplement that is adaptable to any university engineering education program) for the multicultural, multidisciplinary, socially conscious global engagement needed for 21st century engineering.
ASME President Charla Wise later presented Dr. Mote with an award in recognition of his dedication and commitment to ASME, the U.S., and the world community by preparing the next generation for the 21st century global engineering initiatives.
Dr. Mote has received numerous recognitions throughout his career, including the ASME Medal, Germany's Humboldt Prize, and the NAE Founders Award. Before he assumed the Presidency at Maryland, he served on the University of California, Berkeley faculty for 31 years. From 1991 to 1998, he was Vice Chancellor at Berkeley, held an endowed chair in Mechanical Systems and was President of the UC Berkeley Foundation.
Published May 25, 2018