Alumnus Ruffa Gives Whiting-Turner Lecture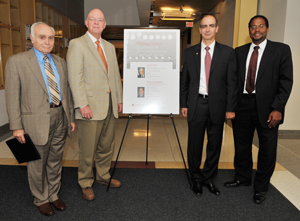 Stephen Ruffa
(B.S. '82, aerospace engineering) gave the final
Whiting-Turner Business and Entrepreneurial Lecture
of the Fall 2008 semester on November 6.
Ruffa discussed the concept of "lean dynamics," the subject of his book, Going Lean: How the Best Companies Apply Lean Manufacturing Principles to Shatter Uncertainty, Drive Innovation, and Maximize Profits. He gave examples of companies such as Toyota, Walmart, and Southwest Airlines, who manage to survive and even thrive in tough economic times and the strategies they use to succeed.
Ruffa's lecture was webcast live and the archived webcast is available to watch online.
Published November 6, 2008