Miller Awarded SMART Scholarship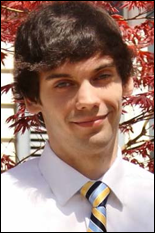 The American Society for Engineering Education (ASEE) awarded University of Maryland Mechanical Engineering and Honors College sophomore Stefan Miller a Science, Mathematics and Research for Transformation (SMART) Scholarship.
The SMART Scholarship is a highly competitive program that is part of the National Defense Education Program. It was established by the U.S. Department of Defense (DoD) to support the education and recruitment of undergraduate and graduate students in pursuit of degrees in the science, technology, engineering and mathematics (STEM) disciplines. In recent years, less than 5% of SMART Scholarship applicants have received awards.
Miller's SMART Scholarship will cover his educational expenses for the remainder of his undergraduate academic studies and research at the A. James Clark School of Engineering. The award includes full tuition and fees, textbook and health insurance allowances along with a generous monthly stipend.
When asked about the award, Miller said "After initially hearing about this program when I was a junior at Calvert High School, earning a SMART Scholarship became one of my near term goals. I am certainly looking forward to this great opportunity."
Miller will also receive mentoring and spend two summers conducting Research Development Test & Evaluation (RDT&E) during paid internships at the Naval Air Warfare Center Aircraft Division (NAWCAD), located in Patuxent River, Maryland. Following graduation, with a B.S. in Mechanical Engineering and an Engineering Leadership minor, he will transition to full-time employment as a civilian Mechanical Engineer for NAWCAD.
For more information on the SMART Scholarship, please visit their website.
Published June 17, 2014