Clark School Students Win National Energy Competition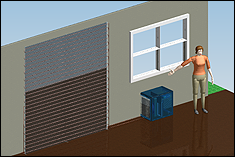 Students from the Clark School's Department of Mechanical Engineering, led by faculty advisor Yunho Hwang, won the U.S. Department of Energy's Max Tech and Beyond Design Competition.
The goal of the competition was to challenge students to find energy-saving solutions for the next generation of efficient household appliances. The team's energy-efficient "Separate Sensible and Latent Cooling" residential air conditioning system has dedicated systems for sensible and latent cooling that could reduce energy consumption by as much as 30 percent.
"Our team excelled because we built a strong energy system and modeling foundation in the classroom with Professor Hwang before brainstorming and committing to a design," student team leader Michael Siemann said. Eleven undergraduate students and 12 graduate students participated in the project.
The main innovations in the team's air conditioner design are its dedicated systems for sensible and latent cooling, a cooling wall concept that combines radiative and convective heat transfer in the evaporator, and using heat to regenerate a dehumidifying desiccant wheel that does not use additional energy. The team worked hard to have prototypes ready early in the process to ensure they had time to test the design and modify it if needed.
Published August 21, 2012