UMD Research Group creates superior water-based battery chemistry
Wang group published in Nature Energy.
FOR IMMEDIATE RELEASE February 7, 2022
CONTACT:
Katie Holland
301 405 0379
khollan3@umd.edu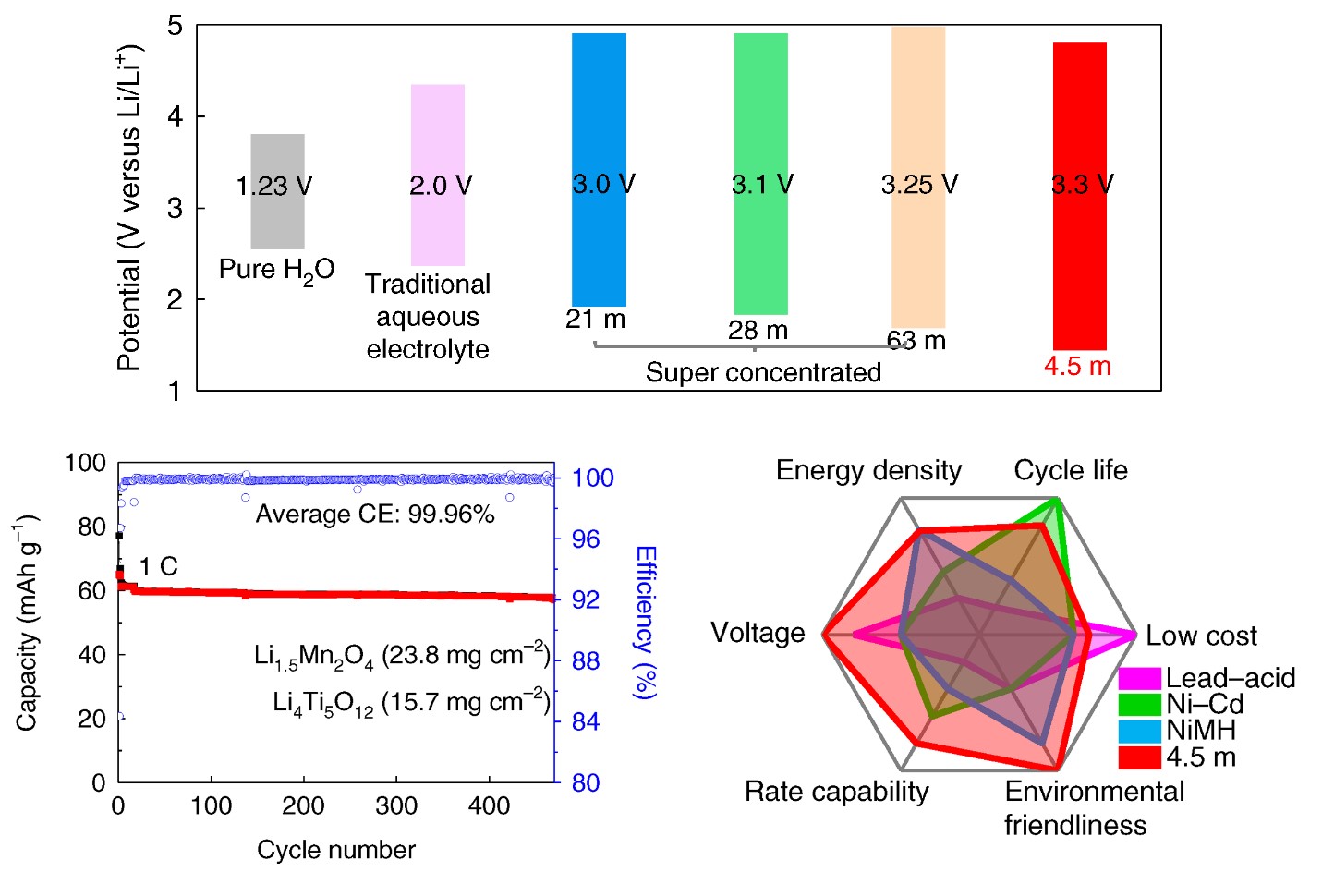 Looking to design next-gen aqueous electrolytes, beyond water in salt (WIS), while enhancing efficiency, stability and reducing cost, aqueous electrolytes with a lower salt concentration of 5.0 m (mol/kg) and wider electrochemical stability window of > 3.0 V are highly needed – and a research team at the University of Maryland (UMD) can provide that.
The team, led by Chunsheng Wang – a professor in the UMD Department of Chemical and Biomolecular Engineering (ChBE) – reports in Nature Energy a non-flammable, ternary eutectic (e.g., mixing of three components) electrolyte that fulfills all the requirements. Jijian Xu, a ChBE Postdoctoral Researcher, served as the first author of the study.
"We developed a next-generation aqueous electrolyte by reducing the salt concentration from 21m in 'water-in-salt' to 4.5m, while further extending the electrochemical stability window to 3.3V," said Wang. "This electrolyte enables a 2.5V LiMn2O4 || Li4Ti5O12 pouch cell with practical settings, which is a big step towards commercial applications."
By mixing three eutectic components – LiTFSI, CO(NH2)2, and H2O, together with KOH as an additive, in this case – the team designed a robust, 4.5m water-based electrolyte, which expanded the electrochemical stability window to 3.3V with the cathodic limiting potential to 1.5 V.
"This electrolyte can reduce the number of H2O in a Li+ solvation shell to 0.7 – the reduction of LiTFSI and CO(NH2)2 under KOH catalyst formed a robust LiF/polymer bilayer SEI," said Xu. "Moreover, Li-rich Li1.5Mn2O4 is used as a lithium reservoir, which compensates for the Li-loss in the anode. Ultimately, we can achieve stable cycling with high Coulombic efficiency."
This battery chemistry – in addition to superior performance – is safe/non-flammable, low cost, and environmentally friendly, thus paving the way for the use of aqueous lithium-ion batteries in everyday applications.
AquaLith Advanced Materials, a Maryland-based materials company, has licensed water-in-salt electrolyte battery technology for commercialization. The U.S. Department of Energy (DOE) has also invested $5M to development of water-in-salt electrolyte batteries.
For additional information:

Xu, J., Wang, C., et al. (2022). Aqueous electrolyte design for super-stable 2.5 V LiMn2O4 || Li4Ti5O12 pouch cells, Nature Energy. DOI: 10.1038/s41560-021-00977-5
About the A. James Clark School of Engineering
The University of Maryland's A. James Clark School of Engineering is a premier program, ranked among the top 20 in the world. Located just a few miles from Washington, D.C., the Clark School is at the center of a constellation of high-tech companies and federal laboratories, offering students and faculty access to unique professional opportunities.
Our broad spectrum of academic programs, including the world's only accredited undergraduate fire protection engineering program, is complemented by a vibrant entrepreneurial ecosystem, early hands-on educational experiences, and participation in national and international competitions.
The Clark School is leading research advancements in aerospace, bioengineering, robotics, nanotechnology, disaster resilience, energy and sustainability, and cybersecurity. From the universal product code to satellite radio, SMS text messaging to the implantable insulin pump, our students, faculty, and alumni are engineering life-changing innovations for millions. Learn more at www.eng.umd.edu.