Clyne Named BIOE Associate Chair, Diversity, Equity & Inclusion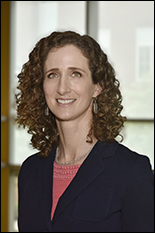 The Fischell Department of Bioengineering (BIOE) announced this week that associate professor Alisa Clyne will serve as BIOE's inaugural Associate Chair for Diversity, Equity, and Inclusion. Prior to joining BIOE in January 2019, Clyne served as an associate professor of mechanical engineering at Drexel University, where she founded and led several programs to enhance diversity within engineering and the STEM fields at large.
"Diversity is essential to creating engineering solutions that improve the quality of life for all people," Clyne said. "I am looking forward to working with students, staff, and faculty to enhance diversity, equity, and inclusion throughout the Fischell Department of Bioengineering and thereby enhance opportunities for all members of the department to succeed."
Clyne founded and oversees BIOE's Diversity, Equity, and Inclusion (DEI) committee, which consists of faculty and staff as well as both undergraduate and graduate students. Together with the committee, she will help guide the wider department through a number of paramount DEI initiatives, including but not limited to facilitating conversations on race and ethnicity, gender and gender identity, and sexual orientation; reevaluating the department's academic programs, outreach, and recruitment efforts to reduce unconscious bias; and creating innovative programs to encourage and retain traditionally underrepresented groups in bioengineering. In addition, the committee will provide insights and feedback as the department moves forward with plans to implement programmatic changes to address bias in engineering design.
"After discussions with our students, staff, and faculty, we felt it was imperative to create this new associate chair position within the Fischell Department of Bioengineering to be both a lead and integration point for DEI actions throughout the department," said BIOE Fischell Family Distinguished Professor and Chair John Fisher. "Dr. Clyne's experience, motivation, and expertise make her particularly well-suited for the position. I am thrilled she will be leading us in these efforts."
Clyne's past experience includes eight years of leading and securing corporate funding for a summer Bridge program to support women and underrepresented racial minority populations in engineering. Her efforts led to demonstrated enhancement in female and underrepresented minority student academic performance and improved retention rates for Drexel University's College of Engineering. In addition, Clyne served as a faculty advisor for the university's Graduate Women in Science and Engineering organization as well as for its Society of Women Engineers.
This past winter with BIOE, Clyne chaired the department's faculty search committee, for which she shared tools and resources on implicit bias to supplement the college's bias training. This summer, she is supporting a BIOE National Science Foundation Research Experience for Undergraduates project focused on developing an artery-on-a-chip. Clyne leads the department's Vascular Kinetics Laboratory, where she conducts research at the interface of engineering, biochemistry, and vascular biology. Together with members of her lab, she uses metabolic engineering to decrease cardiovascular disease disparities.
Published July 9, 2020