Clark Scholars Program Network: Another Powerful Tool for Student Success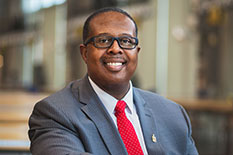 Every person has the potential for greatness. As educators, we have the privilege and responsibility of helping them achieve it. That is what we strive to do in the A. James Clark School of Engineering.

At the Clark School, we take a full-circle approach to helping our students realize their potential:
A welcoming, supportive, and active community that celebrates diversity
Courses, including an increasing number of experiential learning opportunities that are important to the development of our students, led by world-class faculty
Support services conceived of and led by award-winning staff that enhance our outstanding learning ecosystem
Regular chances to engage with industry leaders and government officials
Opportunities to join competition teams and identity-based organizations, pursue internships, and commercialize ideas
For more than 40 years, as an example, our Center for Minorities in Science and Engineering (CMSE) has created opportunities to ensure the success of a diverse and inclusive student body under the leadership of Rosemary Parker. CMSE serves as a national model for programs at other universities along with our Women in Engineering Program led by Paige Smith. Our Keystone Program, led by Kevin Calabro, pairs top faculty with first-year students in a smaller setting, helping build a solid educational foundation for future scholarship, research, and innovation.
In that spirit, we are incredibly proud of our newest activity, the Clark Scholars Program Network, which will support talented students in the Clark School and beyond.
Another powerful tool for student success
As you may know, the A. James & Alice B. Clark Foundation's A. James Clark Scholars Program is recognized for recruiting, retaining, and graduating exceptionally talented engineering students with financial need who are interested in taking on society's grand challenges. Since 2016, Clark Scholars are some of the country's most promising engineers, researchers, and community members. This month, the Clark Foundation and University of Maryland (UMD) announced that the program—implemented at 11 of the nation's top engineering institutions—will have a new permanent home at the Clark School and be known as the Clark Scholars Program Network.
About the Clark Scholars Program Network
The Clark Scholars Program Network will enable us to continue the Foundation's program in perpetuity, broadening the infrastructure needed to lead and evolve work across its 11 partner universities, and fostering more community between scholars, alums, leadership, staff, and partners. Our current partner institutions include Duke University, The George Washington University, Georgia Tech, Johns Hopkins University, Penn State, Stevens Institute of Technology, University of Pennsylvania, University of Virginia, Vanderbilt University, and Virginia Tech.
The Network will also serve as a national clearinghouse for best practices in student recruiting and retention. Network team members will collect, analyze, document, and disseminate data expressly for this purpose, and host an annual Clark Scholars Summit.
UMD's Clark Scholars Program was established as part of Building Together, the Foundation's $219.5 million investment in UMD announced in October 2017. As a longtime partner to the Clark Foundation, the Clark School can continue the Foundation's tradition of impact through scholarship and service.
Our hope is that, via the Clark Scholars Program Network and the Clark School's other outstanding student support programs, we can prepare more engineers to improve our world, and help every person achieve their potential for greatness.
Published November 8, 2023