Bar-Cohen to Receive ASME 75th Anniversary Medal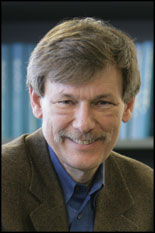 Distinguished University Professor of Mechanical Engineering Avram Bar-Cohen will receive the 75th Anniversary Medal of ASME's Heat Transfer Division during the 2013 Summer Heat Transfer Conference, which will be held from July 14-19 in Minneapolis.
Bar-Cohen will receive the award in honor of his service to the heat transfer community and contributions to the heat transfer field. He has played a pivotal role in defining and guiding the emergence of thermal packaging as a critical engineering domain and is the leading advocate for the embedded microfluidic thermal packaging paradigm. His contributions have facilitated the development of high reliability consumer electronics, high performance computing platforms, and advanced phased array microwave communication and radar systems.
In addition to receiving the medal at the 75th Anniversary Awards Ceremony, Bar-Cohen will be recognized as a VIP guest and will have access to all of the conference's technical sessions, workshops and special events.
Bar-Cohen is especially pleased to be receiving this award in Minneapolis, where he lived with his family for 16 years in the 1980's and 1990's while on the faculty at the University of Minnesota.
Bar-Cohen is currently serving as a program manager in the Microsystems Technology Office of the Defense Advanced Research Projects Agency (DARPA), with responsibility for the ICECool Program, while on leave from the Clark School's Department of Mechanical Engineering.
For more information about Bar-Cohen and his research, visit his faculty webpage.
Published July 1, 2013