News Story
Current Headlines
News Resources
Events Resources
Bradshaw Earns Goldwater Scholarship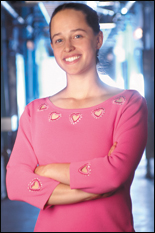 Mechanical engineering junior Heather Bradshaw has earned a 2008-2009 Goldwater Scholarship.
The prestigious honor is awarded based on academic merit. Bradshaw is the only recipient on the UM campus. The number of scholarships awarded is related to the number of Congressional districts in the student's state of permanent residence. Bradshaw is a resident of Virginia.
Bradshaw's current research interest is in developing the next generation of space suits, and she is working in the UM Space Systems lab mentored by Prof. David Akin. Last summer she also participated in the NASA summer academy at the Goddard Space Flight Center on a project related to the James Webb Space Telescope. There she won first place in the Academy Poster competition. She is interning with NASA again this semester.
Bradshaw plans to pursue a Ph.D. in aerospace engineering.
April 1, 2008
Prev
Next