See Our New Clark School Video!


Watch and Share With Others
Submit Your Ideas for the Social Innovation Challenge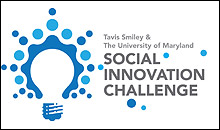 Broadcaster Tavis Smiley and the University of Maryland have issued a "Last Call for Submissions" for the $75,000 TS/UM Social Innovation Challenge. The deadline for entries is October 13, 2013 at 5:00 p.m. EDT. The TS/UM Social Innovation Challenge will award a minimum of $25,000 each to three social innovators, one in each of the target impact areas of hunger, sustainability and education. Learn More and Submit Your Ideas


Join Us for Mpact Week, Oct. 23-26

You are invited to join us for Mpact Week, a four-day event showcasing the Clark School's research, education, innovation, and entrepreneurial ecosystem, October 23-26. Learn about our engineering innovations designed to achieve broad social impact, with the potential to improve millions of lives. Learn More and Register Online


UMD Receives Largest Ever Software Grant from Siemens


Siemens' product lifecycle management (PLM) software will provide UMD students and researchers with a uniquely valuable and sophisticated design and simulation tool for course work, research, academic projects and team-based competitions. Learn More


Weissberg Gift Supports Engineers Without Borders Program
Alumnus Marvin F. Weissberg (B.S., '49, Civil Engineering) has created an endowment for the University of Maryland's Engineers Without Borders (EWB) and Maryland Sustainability Engineers (MDSE) programs. Learn More

Homecoming Weekend – October 24-27
From a Comedy Show to the face-off against the Clemson Tigers, there's something for everyone during Homecoming Weekend 2013. Register today for the Remember the Red Party and join fellow alumni as we cheer on our Terps!
Alumni Association Awards Gala
On Friday, October 25, the Maryland family will honor and celebrate the achievements of 24 individuals who have made their mark on the university at the Thirteenth Annual Alumni Association Awards Gala. Congratulations to the Clark School alumni who will be honored at this year's gala:

Joseph A. Reyes, Jr., BS '57 Electrical Engineering Distinguished Engineering Alumnus Award

Ram Mukunda, BS '79 Electrical Engineering, Mathematics, MS '81 Electrical Engineering
International Alumnus Award

Kevin M. Schoonover, BS '06 Aerospace Engineering Young Alumnus Award

Join Us! Baltimore-Area Alumni Networking Reception – November 14
The Clark School will host a reception for alumni and parents of current students in the Baltimore area on Thursday, November 14, from 6-8 p.m. at the National Electronics Museum. Enjoy a wonderful evening of networking with fellow Terps and friends and meet Clark School Dean Darryll Pines. RSVP online at www.alumni.umd.edu/NEM2013.

Help Our Students! Become a Clark School Alumni Advocate
The Clark School Alumni Advocates are a group of alumni from various engineering majors and organizations who want to share their professional experience and resources with the next generation of Terps. If you are interested in serving as a mentor, hosting on-site tours at your company, returning to campus to share your professional experience, or serving on the engineering alumni chapter board, then we want to hear from you. Please contact Josey Simpson '84, director of alumni relations, at 301.405.2150 or email josey@umd.edu.
Recent Alumni Notes
Each month, we randomly select a name from Alumni Notes to win a Clark School t-shirt. This month's winner is Jonas Tavela! Don't miss your chance to win the next t-shirt—send us your news today by emailing Josey Simpson.

Kevin Bullock, BS '13 Mechanical Engineering
Student Naval Aviator, United States Navy, Pensacola, FL

Daniel Estrada, BS '01 Fire Protection Engineering
Senior Consultant Engineer, FM Global-New York Operations, Parsippany, NJ

Mian Li, PhD '07 Mechanical Engineering
Associate Professor, UM-SJTU Joint Institute, Shanghai

Elaine Soltani, MS '92 Materials Engineering
Vice President, Research & Development, Alloy Surfaces, Inc., Boothwyn, PA

Peter Soltani, BS '83 Chemistry, PhD '94 Materials Engineering
Senior Vice President & General Manager, Hologic, Inc., Marltborough, MA

Jonas Tavela, BS '09 Mechanical Engineering
Associate, TPSS Co-op, Silver Spring, MD
Benjamin Margolis, BS '07 Civil Engineering
Director of Project Finance, Sol Systems, LLC,
Washington, DC

Personal Notes

We were saddened to hear the passing of Sandra Nowstrup Thompson, BS '82 Fire Protection Engineering.
Tell Us Your News
Clark School Alumni, we produce this e-newsletter so we can tell you about the school, but also so you can tell your fellow alumni about yourselves. Send us news about your recent career moves and personal events and we will include them in upcoming issues. Please send your news to josey@umd.edu.
Feel Free to Forward!
We encourage you to forward this message to friends and colleagues! If you do not normally receive this e-newsletter and would like to sign up for it, please send an email to josey@umd.edu.
This e-mail was approved for distribution by
Josefina P. Simpson '84, director of alumni relations.