Learn About Maryland Energy and Sustainability Innovations in Our New Video!


Watch and Share With Others


Inaugural Mpact Week Draws Over 1,000 to See UMD Robotics, Bioengineering, Innovation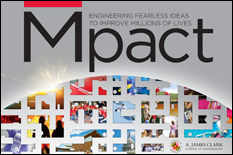 Learn More

UMD Gains National Recognition for Entrepreneurship


Learn More

Join Us! Baltimore-Area Alumni Networking Reception – November 14
The Clark School will host a reception for alumni and parents of current students in the Baltimore area on Thursday, November 14, from 6-8 p.m. at the National Electronics Museum. Enjoy a wonderful evening of networking with fellow Terps and friends and meet Clark School Dean Darryll Pines. RSVP online at www.alumni.umd.edu/NEM2013.

Photo Galleries
Photographs from recent Alumni Networking Receptions have been posted to our website. Please visit www.eng.umd.edu/flickr.
Recent Alumni Notes
Each month, we randomly select a name from Alumni Notes to win a Clark School t-shirt. This month's winner is Nia Kelley! Don't miss your chance to win the next t-shirt — send us your news today by emailing engralumni@umd.edu.

Thomas Bassolino, BS '04 Mechanical Engineering
Patent Attorney, Strategic Patents, P.C., Needham, MA

Michael Drerup, P.E., BS '98 Civil Engineering
Senior Engineer, CTLGroup, Washington, DC

Nia Kelley, BS '00 Electrical Engineering
Consultant, MS Dynamics CRM, PowerObjects, Minneapolis, MN

Matthew Marcus, BS '13 Aerospace Engineering
Recently awarded National Science Foundation Fellowship that will support his graduate work in Aerospace Engineering at the Clark School of Engineering under the direction of Prof. Raymond Sedwick. Matt, the son of Jeff Marcus, BS '75, Mechanical Engineering, is a second generation graduate of the Clark School. Matt has worked at the Office of On-Orbit Servicing Capabilities at NASA's Goddard Spaceflight Center.

Michael Marsicano, MS '93 Electrical Engineering
Lead Associate, Booz Allen Hamilton, Herndon, VA

Ashish S. Mehta, BS '94, Electrical Engineering
Manager of Engineering and Asset Performance, Baltimore Gas & Electric Company
Vahid Motevalli, P.E., BS '83, MS '85, PhD '89 Mechanical Engineering
Joined Tennessee Technological University as Associate Dean of Engineering for Research and Innovation. Vahid joined TTU after four years in leadership positions at Purdue University.
Si-Zhao (Joe) Qin, PhD '92 Chemical Engineering Received IFAC Fellow Award. There have only been 147 IFAC Fellows worldwide.

Personal Notes

We were saddened to learn of the passing of Clifford Lanham, MS '72 Chemical Engineering.
Tell Us Your News
Clark School Alumni, we produce this e-newsletter so we can tell you about the school, but also so you can tell your fellow alumni about yourselves. Send us news about your recent career moves and personal events and we will include them in upcoming issues. Please send your news to engralumni@umd.edu.
Feel Free to Forward!
We encourage you to forward this message to friends and colleagues! If you do not normally receive this e-newsletter and would like to sign up for it, please send an email to engralumni@umd.edu.
This e-mail was approved for distribution by
Ted Knight, Assistant Dean of Communications