Clark School Highly Ranked in 2014 U.S. News and World Report's Best Graduate Schools
In the new U.S. News and World Report 2014 Best Graduate Schools survey, the University of Maryland's Clark School of Engineering continues to maintain its high rankings. The Clark School and 5 of its departments were rated in the top 25 in their categories. Learn more here.
Alumnus Rauch Named to University System of Maryland Board of Regents

Clark School alumnus Robert D. Rauch, P.E., (B.S., civil engineering, '73) has been appointed as a new member of the University System of Maryland Board of Regents. The appointment, made by Maryland Governor Martin O'Malley, was recently confirmed by the Maryland Senate. Rauch is a principal with the civil engineering and construction management firm Robert D. Rauch & Associates, Inc., of Easton, Md. Read more here.
New Study Shows University of Maryland Grads Among Highest Paid in U.S.
University of Maryland, College Park graduates earn the second-highest starting salaries among students from all 50 U.S. state flagship schools, according to a recent study. Only the University of California-Berkeley registered a higher median starting salary for graduates than the University of Maryland. Read more here.
Graduate Student Michael Siemann Installs WeatherBug Weather Station in Nepal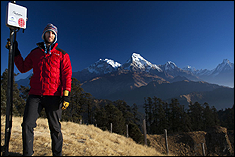 Instead of spending a break from school at home, mechnical engineering graduate student Michael Siemann traveled to a remote Nepali village to install a weather station as part of the Earth Networks – WeatherBug Total Lightning Network. The weather station will aid area pilots flying small planes to remote villages and general mountain sightseeing flights in an area known for extreme weather changes. Read more here.
UMD Course To Serve as National Model for 'Energy 101' Curriculum
A University of Maryland course designed by faculty from the Clark School of Engineering and the College of Education will be showcased as a model for a new national curriculum initiative designed to help address the array of energy challenges facing the country. A unique, interdisciplinary curriculum called 'Energy 101' is the result of the collaborative efforts of UMD, the Association of Public and Land-grant Universities, the U.S. Department of Energy, and the Environment and Energy Study Institute. Read more here.

ExPO: Engineers Skills Fair – April 7

UMD's Engineers Without Borders chapter is launching the first ever ExPO: Engineers Skills Fair on Sunday, April 7th at the Kim Engineering Building. Student groups from all engineering disciplines will showcase their engineering skills through hands-on workshops for the whole Maryland community. Learn more here.
Alumni Career Fair and Professional Development Day – April 18
Due to inclement weather, the University of Maryland Alumni Association's Career Fair and Professional Development Day has been rescheduled to Thursday, April 18 from 1:00-6:00 p.m. at the Samuel Riggs IV Alumni Center. Click here for more details and to RSVP.

Join Us at an Upcoming Alumni Networking Reception!
Monday, April 22, 6:00-8:00pm at The Hyatt Regency La Jolla, San Diego, CA
Tuesday, April 23, 6:00-8:00pm at The Stanford Park Hotel, Menlo Park, CA
Thursday, May 9, 6:00-8:00pm at The Engineers Club, Baltimore, MD

Photo Galleries
Photographs from recent Networking Events, the Alumni Cup Competition and the Order of the Engineer Ceremony have been posted to our website. Please visit www.eng.umd.edu/flickr.

Capital One
We've partnered with Capital One to bring you the only credit card that shows your support for the University of Maryland Alumni Association. Apply by calling 1.888.922.1822 or online at www.alumni.umd.edu/capitalone.

Recent Alumni Notes
Each month, we randomly select a name from Alumni Notes to win a Clark School t-shirt. This month's winner is Alexey Nikiforov! Don't miss your chance to win the next t-shirt—send us your news today by emailing Josey Simpson.
Daniel Barbieri, BS '89 Mechanical Engineering
Chief Intellectual Property Counsel, Rockwell Collins, Cedar Rapids, IA

Nicholas Barrick, BS '06 Civil Engineering
Recently promoted to Associate at KCI Technologies, Inc., Fulton, MD

Regis Carvalho, MS '06, PhD '12 Civil Engineering
Project and Research Engineer, Dynatest Consulting, Inc., Upper Marlboro, MD

Michael A. Cox, BS '86 Engineering
Joined the Calvert Memorial Hospital Foundation Board of Trustees

Joshua Elvove, BS '80 Fire Protection and Civil Engineering
Named President of the Society of Fire Protection Engineers
John N. Lauer, BS '63 Chemical Engineering and Distinguished Engineering Alumni '93, will be honored for his efforts on behalf of the Hungarian Heritage Society in Washington on May 8.

Charles Lind, PhD '94 Aerospace Engineering
Chief of Staff, Program Executive Office, Missiles and Space, Restone Arsenal, AL

Alexey Nikiforov, BS '11 Aerospace Engineering
Design Engineer, Bell Helicopter, Hurst, TX

Adnan Sahli, MS '81, PhD '83 Civil Engineering
Chief Operating Officer, LEAD Development and Project Management, Abu Dhabi UAE
See more at Clark School Alumni Notes on our site...
Tell Us Your News
Clark School Alumni, we produce this e-newsletter so we can tell you about the school, but also so you can tell your fellow alumni about yourselves. Send us news about your recent career moves and personal events and we will include them in upcoming issues. Please send your news to josey@umd.edu.
Feel Free to Forward!
We encourage you to forward this message to friends and colleagues! If you do not normally receive this e-newsletter and would like to sign up for it, please send an email to josey@umd.edu.
This e-mail was approved for distribution by
Josefina P. Simpson '84, director of alumni relations.