The fall 2013 semester featured a whiriwind of activity for our Clark School of Engineering community at the University of Maryland, including unprecedented honors and recognition for our faculty, new heights of achievement for our student competition teams, groundbreaking corporate partnerships, and our first Mpact Week research showcase.
Our accomplishments can be fully viewed by clicking the category links on the left. Here are some of our featured accomplishments:
Two Clark School Faculty Members Receive Presidential Early Career Awards
President Obama has named two University of Maryland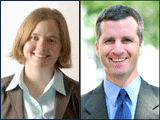 Clark School of Engineering faculty members as recipients of the Presidential Early Career Award for Scientists and Engineers (PECASE). Assistant Professor of Mechanical Engineering Sarah Bergbreiter and Aerospace Engineering Associate Professor Derek Paley, both of whom hold joint appointments with UMD's Institute for Systems Research, were selected for the PECASE award, the highest honor bestowed by the United States Government on science and engineering professionals in the early stages of their independent research careers.
UMD Wins First Place in Hackathon Season
The University of Maryland's Terrapin Hackers team has been named champion of the Fall 2013 Hackathon Season by Major League Hacking (MLH). The first place title was earned based on merit and attendance at five MLH hackathons, where students collaborate to innovate software, hardware, apps, or working prototypes of a product.
UMD Receives Largest Ever Software Grant from Siemens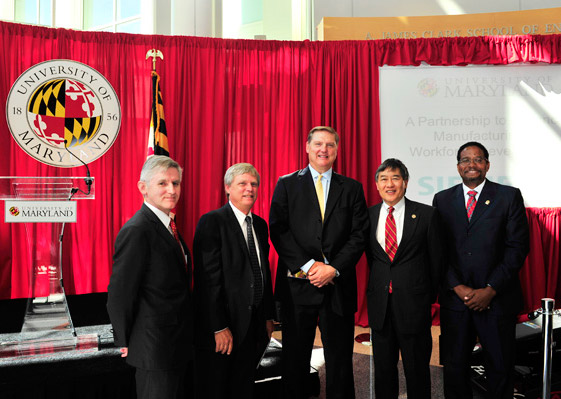 The University of Maryland (UMD) received the largest ever in-kind software grant from Siemens PLM Software with a commercial value of more than $750 million. Siemens' product lifecycle management (PLM) software will provide UMD students and researchers with a uniquely valuable and sophisticated design and simulation tool for course work, research, academic projects and team-based competitions.
UMD Ranked Top Public School for Tech Entrepreneurship in StartEngine College Index, Princeton Review
The University of Maryland is the top public school in the U.S. and ranked second overall for tech entrepreneurship, according to the StartEngine College Index, as reported in the Silicon Valley publication PandoDaily. The University of Maryland also once again made The Princeton Review's list of the country's top entrepreneurship programs. In the 2014 list of the "Top 50 Schools For Entrepreneurship Programs," published in Entrepreneur magazine, UMD ranks No. 15 for its undergraduate program. The university also ranks No. 16 for its graduate program, up eight spots from the 2013 rankings.
Inaugural Mpact Week Showcases UMD Innovations, Robotics, Bioengineering
The Clark School hosted its first Mpact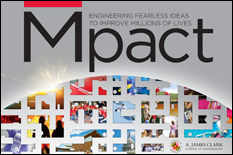 week to showcase its research, education, innovation, and entrepreneurial ecosystem. The four-day event drew in more than 1,000 attendees for the Student Startup Showcase, Fischell Bioengineering Festival, Gamera Human-Powered Helicopter Team Celebration, and Maryland Robotics Day, which attracted hundreds of K-12 students, and footage from the event was aired on ESPN during the Maryland homecoming football game vs. Clemson.


There is no doubt that 2013 was a period of growth and success at the Clark School, and we are ready to accomplish even more. Learn how you can get involved by exploring this newsletter and our web site to find initiatives of interest to you. Thank you, as always, for your support.
Darryll Pines
Dean and Farvardin Professor